Luton Town: The team that have outscored Manchester City this season
Last updated on .From the section Luton
They boast record-breaker Sergio Aguero, assist king Kevin de Bruyne and free-scoring Raheem Sterling in their ranks.
They are top of the Premier League, unbeaten and eight points clear of all-comers - but you may be surprised to hear Pep Guardiola's Manchester City are not the most prolific team in England's professional divisions.
That tag falls to Luton Town. BBC Sport profiles the League Two leaders who have scored 63 goals - more than anyone else in the country this season.
Hatters scoring a hatful
"We don't compare ourselves with Man City - they're on a different planet to us in terms of many things," Luton boss Nathan Jones told BBC Three Counties Radio.
"But we're very proud to be the top scorers in the country. That's something which we work on, it's something which we want to keep doing, we're a positive side and that's fine."
Welshman Jones, 44, is in his first managerial post, having left a backroom role at Brighton to take charge of the Hatters in January 2016.
He was named League Two manager of the month for December on Friday - the second month in a row he has picked up the award.
"We've scored seven twice, scored eight, fours, fives, threes - so we are an attacking side," Jones said.
"I don't think Man City's goals are going to dry up, so if we can stay a goal ahead of them for the rest of the season I'm sure we'll be in a good place."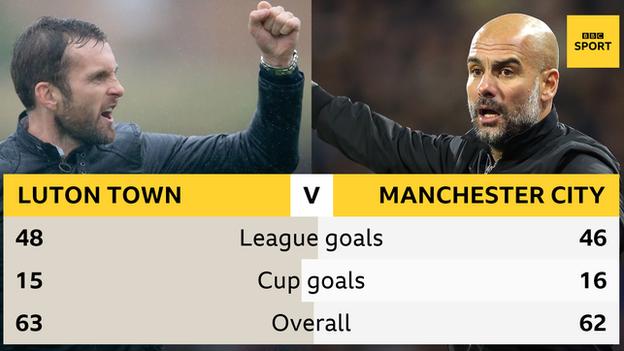 Luton's 8-2 rout of Yeovil on the opening day certainly set the tone for the months to follow.
It was the first time the Bedfordshire club had scored seven or more goals in an English Football League game since 1988, but Jones' side have now achieved that feat on three occasions already this campaign - hitting Stevenage for seven in October and last month thrashing Cambridge 7-0 at Kenilworth Road, where they have bagged 34 goals in just 10 league matches.
However, it has not always been a goal glut, with the Hatters actually failing to score in six of their 20 league games so far.
"It shows there's room for improvement if we're not scoring in 30% of our games - but we're scoring a load in 70% of them," Jones added.
Hylton leading the way
Every promotion-chasing side needs that 20-goal-a-season striker and Danny Hylton looks like being that man for the Hatters.
The former Aldershot and Oxford forward found the back of the net 27 times in 2016-17 and already has 13 to his name this term from just 21 appearances.
"I don't think I'd ever been involved in games like these before this season," he said of the club's goalscoring exploits.
"You score seven once and people say it's luck, you do it twice and three times now - it's not luck.
"The fans will get disappointed with a one or 2-0 win now," Hylton joked.
Luton's feats in front of goal are not just down to Hylton. A total of 20 players have netted in 2017-18 and their past nine goals have been scored by nine different names.
"I think that's why we do so well, there are no selfish players in the team," added Hylton.
"It's not about me, James Collins, Luke Berry or Elliot Lee - it's not about any individual."
'They'll probably win the league at a canter'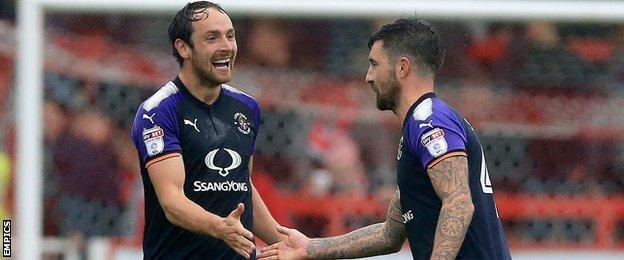 Manchester City might have the derby against neighbours United on Sunday, but Luton have a top-of-the-table match of their own on Saturday against Notts County.
Teams vying for the title often engage in mind games but even Luton's rivals concede that they are simply too hot to handle.
"For me, Luton are going to win the league and probably at a canter," Notts County owner Alan Hardy told BBC Radio Nottingham.
"I'm very confident we'll get promoted - I expect to be second or third - but I struggle to look past Luton.
"If you offered me a draw now I would take it."
Interviews by BBC Three Counties' Geoff Doyle and BBC Look East's Jonathan Park