Chris McLaughlin's words of the weekend: McInnes riled as Rangers' search rolls on
Last updated on .From the section Scottish Premiership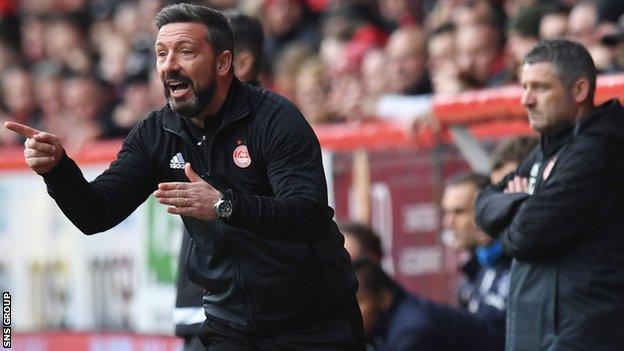 BBC Scotland's senior football reporter, Chris McLaughlin, analyses a talking point from the weekend's action, asking what's behind the words.
Aberdeen manager Derek McInnes
"It's certainly not been encouraged by anyone here - I've not been happy with how things have played out."
As pantomime season gets under way, some of the actors could do worse than to take a look at Rangers' search for a new manager for inspiration. As each week passes without a successor to Pedro Caixinha at Ibrox, new villains emerge and the intrigue grows.
Although for some, the intrigue has now made way for straight up boredom. Including, it seems, the man who has been in the spotlight for the entire show.
When the process started, the Aberdeen manager was the club's number one target. Over five weeks on and nothing has changed. For the benefit of keeping the panto analogy alive we can safely change the chant to "he's in front of you".
Derek McInnes' emotions have gone from silence to exasperation to anger. Has he always been keen on the job? Yes. But realistically, he could only ever admit that sitting in the Blue Room at Ibrox after officially making the switch.
He's also well aware that he's already the manager of one of Scotland's biggest clubs and to fuel speculation would be unbelievably disrespectful to a north east institution that has provided the platform on which he has created his managerial name.
After back-to-back defeats to Rangers he knew the question was coming. I was expecting a first class display of issue dodging but what I got instead was clear anger.
Not aimed at me but at whoever it is that has left his managerial backside blowing in the breeze - at whatever delay has left him treading water and trying desperately to convince a fan base that he won't do the dirty when he knows that's more than likely the end game.
The hatred that will surely flow from the Dons fans if he goes could have been mitigated by a swift exit after the Caixinha sacking. Now, given his backing of the chairman, there will be no clean break with best wishes - it's messy and he knows it.
Anyone who can tell you why Rangers have taken so long is a better man than me. Speculation and conspiracy theories range from a lack of finances to a deliberate attempt to undermine their closest league rivals.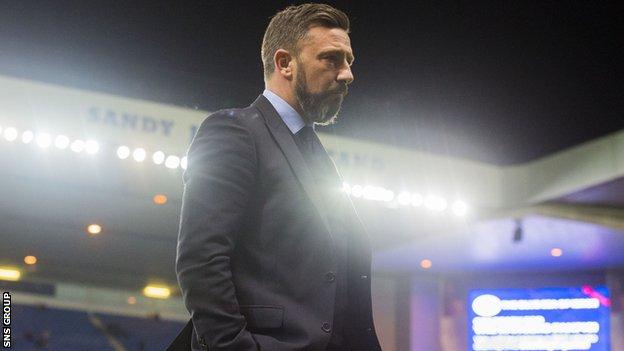 The club's chairman Dave King simply says they want to make sure they get it right.
He told the club's shareholders that the new man would be British, with a knowledge of Scottish football and that he would get a three-year deal. It was just like they knew exactly who they wanted and seemed incredibly sure that man would say yes.
And as the panto continues to plays out, the fans watch in wonder as the plot thickens by the day.
Some Aberdeen supporters simply refuse to believe it will happen and point to a west coast conspiracy created, or at least aided, by a scheming, malevolent media. Others seem reluctantly resigned to it.
It's a split that's mirrored by the Rangers support and their appetite for their former midfielder's Ibrox return. Some want a big name, a blow the budget marquee appointment to send a signal of intent to a seemingly unstoppable Celtic. It won't happen. Those who favour a more realistic and pragmatic approach know McInnes is probably their best option.
And so the fans, the clubs, the media and the individuals involved will all continue to act out their part in this seemingly never ending festive feast of 'guess who'.
McInnes remains Rangers number one target but the frustration is beginning to show in various quarters. Whoever is left on stage when the curtain does finally comes down has some questions to answer. It's the only certainty left because few will be asking for an encore.