Alan Hardy: Notts County owner says success costing £40,000 a month in bonuses
Last updated on .From the section Notts County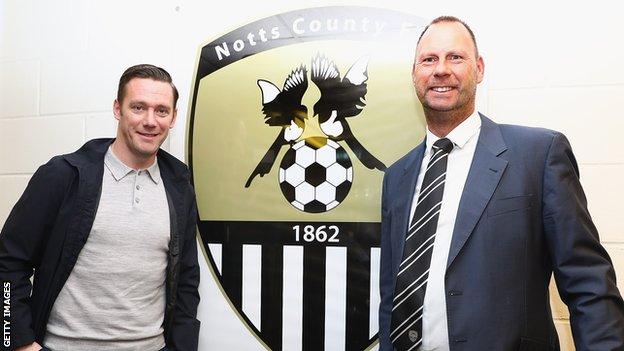 Notts County are being "challenged financially" because of their success this season, says owner Alan Hardy.
County are second in League Two and beat Oxford City 3-2 on Saturday to reach the FA Cup third round.
"It's going the wrong way [financially] due to the fact the players are doing so well on the pitch," said Hardy.
"Each month we're paying out over £40,000 in bonuses to players and management because they are on great win bonuses."
He continued to BBC Radio Nottingham: "That's how you motivate people, by putting it out there.
"You get bonuses for being top of the league, bonuses for [being in the] top three, and that's why players are scoring in the 96th minute, because it all goes towards motivation."
Nottingham businessman Hardy took over Notts County from Ray Trew in January with the club facing a winding-up petition brought by HM Revenue & Customs.
Hardy, who said Notts were losing £1.6m a year, saved the club from potential liquidation and appointed Kevin Nolan as manager in January, with the former Bolton midfielder leading the Magpies to a 16th-place finish.
County have lost only three league games this season and are level with next Saturday's opponents Luton on 41 points from 20 games at the top of League Two.
However, Hardy admitted that if the upward trend on the pitch were to continue in the long term he might have to seek outside investment or step aside.
"I can sustain it up until we get to the Championship and then I think it's a different model and I don't think it's a model that I can personally sustain," he said.
"Whether that's foreign investment and they bring in their own management team, or they want me to stay on.
"We're a few years away from that, but I think I've got to be realistic in the fact I won't be taking this club to the Premier League because I haven't got the means."