Hearts 1-1 Hamilton: Levein 'unhappy' with Madden decisions

By Jonathan Sutherland
BBC Scotland at Tynecastle
Last updated on .From the section Scottish
Hearts manager Craig Levein described Bobby Madden's decision to send him to the stand as "crazy" in a turbulent 1-1 draw with Hamilton Academical.
Levein says he was given no reason by Madden why he was being sent off.
The Hearts boss also feels Hamilton midfielder Darian MacKinnon should have been sent off following a touchline bust-up with Hearts.
"I was unhappy with a lot of the decisions that he made," Levein said of Madden.
"Bobby was four yards from me and, instead of coming over to talk to me, he stopped and said I should go over and speak and listen.
"I could hear him perfectly from where he was, I didn't see the point in that, unless we're just playing children's games and trying to prove who's in charge."
Levein did not believe his assistant should have been sent off either following an altercation with MacKinnon that resulted in both men grappling on the ground, sparking a melee on the touchline that at one stage prompted police officers to try to intervene.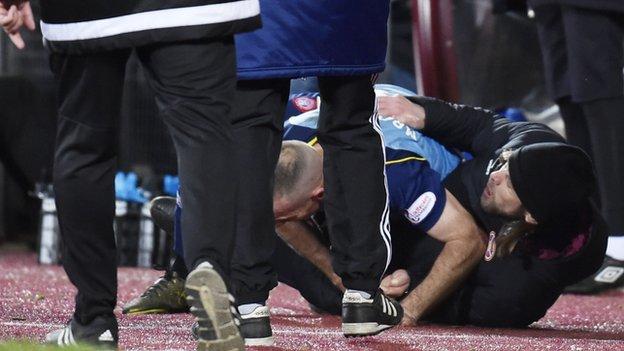 "Austin has hold of the ball and, even if he doesn't want to give the ball back to Darian MacKinnon, MacKinnon has rugby tackled him," Levein said.
"Now if that's on the field of play, both players get booked - MacKinnon's already booked - yet there's no punishment for him.
"I just don't understand how he can send Austin to the stand and do nothing to MacKinnon. He's dived on him and dragged him to the ground."
Earlier, Hearts right-back Jamie Brandon was sent off for a second yellow card. Replays suggest Brandon elbowed Hamilton striker Antonio Rojano in the face.
The Hearts manager will review footage of the incident before deciding whether or not to discipline Brandon.
"I haven't seen clearly the incident with Jamie Brandon and if it is a situation where he's struck somebody with a fist or an elbow or whatever then obviously we'll deal with that accordingly," Levein said.
"I didn't see that. I certainly heard the squeal their player made and obviously he's doing his best to attract the referee's attention."
Hamilton manager Martin Canning felt his side created enough chances to win the game, with David Templeton hitting the post with one effort from the edge of the penalty area and Hearts goalkeeper Jon McLaughlin pulling off a series of saves.
"I thought we did enough to win the game," Canning said. "It feels that two points have been dropped.
"A lot happened in the game, but I'll credit my players with keeping their discipline because it's difficult in this atmosphere.
"It's a passionate crowd and I thought they were provoked a lot.
"Darian has gone across to try and get the ball back and Austin's pulled him to the ground, which was disappointing.
"That's why I'm pleased with my players, because we kept our discipline."