Move over NFL - there's a Championship team who wants to take your goal celebration crown
Last updated on .From the section Football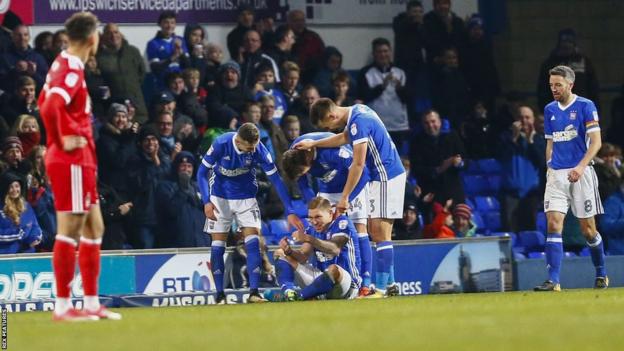 Teams who play together celebrate together.
That's exactly the mantra Ipswich Town players took on for Saturday's home game against Nottingham Forest.
Martyn Waghorn's tenth goal of the season in the 53rd minute sent The Tractor Boys 3-2 up... and prompted a memorable celebration.
Okay, okay, so the NFL admittedly has the best celebrations -duck-duck-goose anyone?!- but Waggy gave it a good go by sitting on the pitch and re-enacting the popular video game Mario Kart, by taking an imaginary driving seat and throwing it back to the 90s.
It's not the first time the 27-year-old striker has got creative on the pitch; he's also admitted his goal during Ipswich's 2-2 home draw against Sheffield Wednesday last month took inspiration from Call of Duty.
I guess we know what he does in his spare time...
Other footballers have also shown their love for video games through goal celebrations.
Anyone remember when Rio Ferdinand and Darren Fletcher fired a SOCOM-inspired rocket launcher during Manchester United's 2-1 away win against Middlesbrough on this very date (2 December) - 11 years ago?
Feeling old?