Sam Allardyce: How Everton manager's first match in charge played out

By Phil McNulty
Chief football writer
Last updated on .From the section Everton124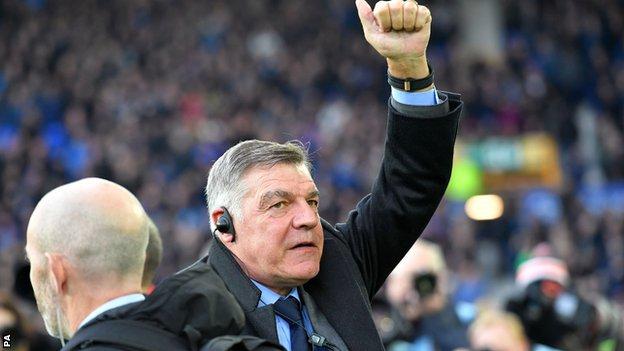 Sam Allardyce's day started with a cold shower then an unexpected show of warmth from Everton's fans after a week of scepticism surrounding his appointment as manager.
Allardyce was hardly hiding behind the door as he eased himself into his chair at Everton with a typical show of defiance and confidence - insisting his credentials are far more suited to the task of succeeding Ronald Koeman than Watford's Marco Silva, so long a target for major shareholder Farhad Moshiri.
Big Sam's big day, his first game in charge against Huddersfield Town, got off to an inauspicious start when he received an unwelcome icy blast from Goodison Park's sprinklers as he walked around the perimeter of the pitch before kick-off.
From then on it was exactly as the 63-year-old would have wanted as his new team went on to win 2-0.
There has been scepticism among Everton's fans after a chaotic managerial hunt which went via Diego Simeone and Silva before alighting at Allardyce and a lot was riding on this meeting with Huddersfield Town.
Goodison Park was consumed by an eerie and somewhat surreal atmosphere in the hours before kick-off, many fans wondering quite how Everton have ended up at this point, led by a divisive personality who barely rated a mention when the runners and riders lined up to take over from Koeman following his sacking on 23 October.
In the fanzone area behind the Sir Philip Carter Park Stand, hundreds fell silent as Allardyce's face flashed up on the big screens and their new manager spoke. There was disapproval, no dissent, apart from one Huddersfield fan who gave colourful vent to his dislike for the former England manager.
If many Everton fans had questioned Allardyce's appointment, it was nothing compared to what greeted the arrival of former Liverpool midfielder Sammy Lee as his assistant.
Logic dictates that any new manager brings his trusted team with him and Lee was alongside Allardyce at Bolton Wanderers, West Ham United and England. Everton, however, was regarded as a a bridge too far by many traditionalists of a royal blue persuasion.
To say it had not been warmly received was an understatement but there was no rancour among the few supporters inside Goodison Park when Lee put Everton's players through their pre-match warm-up.
Lee found a friendly face in Everton chairman Bill Kenwright, who made a point of walking on to the pitch at the Howard Kendall Gwladys Street End to warmly embrace the man who piled up the honours across Stanley Park at Anfield before becoming a long-serving member of the club's backroom staff.
And if Allardyce, perhaps unlikely given his bullet-proof self-belief, had any worries about the reception he was to receive from a sold-out Goodison Park, they were banished as he strode to his place in the technical area seconds before kick-off.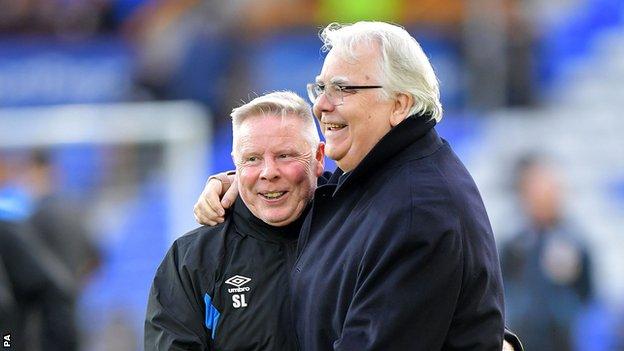 When Allardyce's name was announced as Everton's new manager, there was genuine warmth in the ovation that swept around the stadium.
He did not exactly look over his shoulder to see if a club legend had appeared behind him but Allardyce seemed slightly taken aback by the greeting he received, an arms aloft gesture changing to a fist-pump as all four sides of Goodison Park broke into loud applause.
The first half was trademark Big Sam. Long overcoat. Fierce gum chewing. Earpiece crammed in. And a war of attrition unfolding in front of him that he needed to solve.
Allardyce was communicating with former Leicester City manager Craig Shakespeare, another Everton newcomer and another Allardyce loyalist from their brief partnership with England, sitting in the directors' box observing from above.
Lee, who will take a little getting used to clad in his Everton attire, was certainly not keeping a low profile as he expended more energy than some of the players in a sterile first 45 minutes, contesting every decision, cajoling, confronting Huddersfield manager David Wagner and fourth official Mike Dean, offering bursts of support to his new charges.
Allardyce exerted his influence during the interval, pushing Gylfi Sigurdsson and Aaron Lennon into more advanced positions in a move that brought dividends when the £45m Icelander slid home the first goal of the new era courtesy of the tireless Dominic Calvert-Lewin.
It was the perfect day for an Allardyce watch and he provided plenty of material as he stalked his technical area.
A furious bout of arm-waving and pointing brought murmurs of approval. A bout of flashy flicks that played Everton into trouble produced a volcanic reaction from a visibly red-faced manager before an unceremonious clearance into the crowd in the closing seconds brought applause and a thumbs-up.
It would be unfair to paint this as some sort of muck and nettles Allardyce performance. He clearly made a point of pushing Everton's more creative players into dangerous areas in the second half to make the difference, with Wayne Rooney once more oozing class and meriting his second standing ovation this week when he was substituted late on.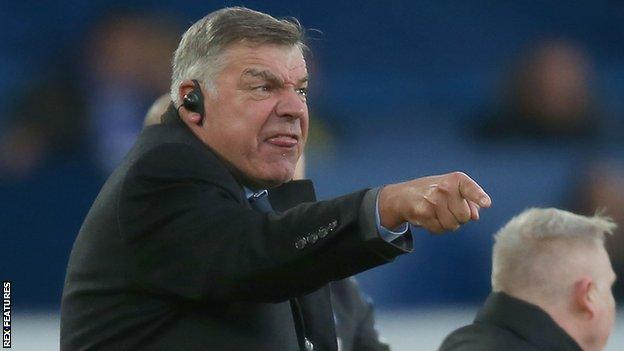 Rooney's magnificent through ball ensured Calvert-Lewin got the goal he fully deserved to round off Allardyce's perfect day with Everton's second.
There was no way back for Huddersfield and the final whistle brought handshakes all round and another fist-pump of approval from Allardyce as Everton made it two crucial wins and two clean sheets in four days against West Ham United and now Huddersfield.
Allaryce was, understandably, in buoyant post-match mood, describing his reception as: "Fantastic. Brilliant."
He added: "I have chosen to take this job and it wasn't a difficult decision. I knew how good this club was before I took it. Now I just want to try and get them back to where they were when they had such a good season to finish seventh last season.
"It's a dream job for me and I'm going to give it 100%."
And with that he was up and gone, looking like a man who can barely believe his luck as he said: "Let's hope it's onwards and upwards, boys."
Onwards and upwards indeed - and a far cry from the desolation that surrounded Everton after that harrowing 4-1 loss at Southampton last Sunday.
Everton are into the Premier League's top 10 and now stand just seven points behind Burnley and Tottenham.
Little wonder, then, that Allardyce made his exit with a beaming smile. This could not have gone much better.
Allardyce and Everton still looks a curious fit - but the veteran manager seems determined to make it comfortable.
Sam Allardyce's Premier League record pre-Everton

Games

Win

Draw

Loss

Win %

Bolton

226

80

66

80

35.4

Newcastle

21

7

5

9

33.3

Blackburn

76

26

21

29

34.2

West Ham

114

35

28

51

30.7

Sunderland

30

9

9

12

30

Crystal Palace

21

8

2

11

38.1

Total

488

165

131

192

33.8