Antonio Conte: Chelsea manager suggests fixture conspiracy
Last updated on .From the section Chelsea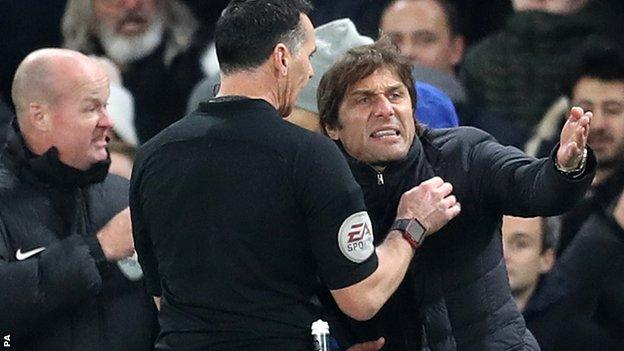 Manager Antonio Conte has suggested there is a fixture conspiracy against his Chelsea side.
The Italian has previously questioned the scheduling of Premier League games, particularly the disparity in rest between his side and their opponents.
On Saturday, Chelsea host Newcastle, who played a day earlier this week.
Conte said: "It's difficult to think it's a coincidence. This is the fourth time. If someone wants to joke with me I'm not the right person to joke with."
The 48-year-old recently queried why his side had to play Liverpool three days after a trip to face Qarabag in Azerbaijan.
He has also brought up the matter in relation to fixtures against Manchester City and Watford, which came after European games.
The champions are third in the table - 11 points behind leaders Manchester City - going into the 12:30 GMT kick-off at Stamford Bridge.
Conte added: "Once it can happen. Twice it can happen. The third time, you start to be perplexed. In only 14 games [it has happened] four times.
"Every team has this type of situation. But from start of the season, I don't know, I see only Chelsea to have this type of situation.
"I don't want advantages. If we have to play every two days, I'm ready. But we need to have the same rest as our opponents, then we see what happens.
"Is it difficult to do this? I don't think so. It is a strange coincidence."
Chelsea have previously made representations to the Premier League, and a spokesman told BBC Sport they would not be responding to Conte's latest comments.
More trouble on the horizon?
Premier League between Dec 2 -Jan 3

Club

Games

Days

Club

Games

Days

Arsenal

10

33

Man City

10

31

Bournemouth

9

30

Man Utd

10

31

Brighton

8

31

Newcastle

8

31

Burnley

8

31

Southampton

8

31

Chelsea

10

33

Stoke

8

31

C Palace

8

32

Swansea

8

32

Everton

9

31

Tottenham*

8

32

Huddersfield

8

31

Watford

8

32

Leicester

9

31

West Brom

8

32

Liverpool

9

31

West Ham

9

31

*Tottenham's 31 December fixture against West Ham moved to 4 January.
Starting with Saturday's game, Chelsea will play 10 times in the next 33 days.
That includes the Champions League visit of Atletico Madrid - which is followed by another early Saturday kick-off - and an EFL Cup quarter-final against Bournemouth, as well as eight Premier League ties.
Arsenal have a similar schedule - but both Manchester clubs have to play 10 games in two fewer days.
Looking at the four festive fixtures in particular, Chelsea will more rest between the start of their first game and the end of their fourth than any club except Arsenal.
That is because their New Year's Day fixture against the Gunners was pushed back to 3 January.