Motherwell manager Stephen Robinson 'expects nothing' from SFA penalty query
Last updated on .From the section Motherwell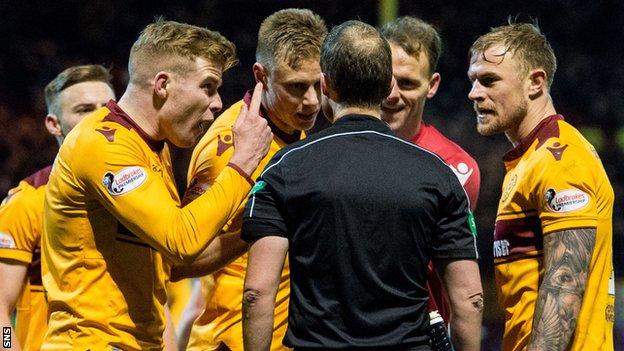 Motherwell manager Stephen Robinson admits he is "expecting nothing" from the club's quest for answers over two penalty awards for Celtic.
Motherwell have "sought feedback" from the Scottish FA's head of refereeing, John Fleming, on both decisions.
"In truth, I'm expecting nothing," Robinson said.
"It's the people above me have gone to John Fleming. For me, the decision was made...and Celtic won the cup and we're not going to change that.
"They came back and got a point the other night and we took a point off the champions. Those are the facts and we're not going to change that.
"All the appealing and moaning in the world isn't going to change that. All I'm hoping for is a result against Celtic on Saturday."
Robinson stressed he would rather discuss the quality of football the two sides served up than refereeing decisions labelled "debatable" in a Motherwell statement.
"You [the media] have the benefit of watching it three days later and the benefit of 25 different angles," he said.
"The referee doesn't have that and has to make a decision. What I will say is that referees do it with integrity and do their best with it.
"But the speed of the game, and how easily people go down nowadays all over the world and not just in Scottish football, that's what we're talking about.
'Meant to be promoting Scottish football'
"No-one's talking about how good a game it was. We're meant to be promoting Scottish football instead of talking about the negative aspects of it all the time.
"That's what I prefer to do."
The Northern Irishman was wary that any contact in the box could cost Motherwell again when the teams meet for the third time in a week on Saturday.
"It's probably something you need to be aware of, because you literally cannot touch players," he added. "That's not just Celtic players, that's every player.
"That's just modern-day football. It's very minimal contact now. The game has changed a lot.
"But I can't tell my players to stand off Scott Sinclair or Patrick Roberts, because if you stand off them they are going to score. It's a fine line. And you are just hoping for strong decisions and the right decisions. Some will go for you, some won't. That's football."