Mike Pejic: Ex-Stoke, Everton, Villa & England footballer's conquest of taekwondo
Last updated on .From the section Football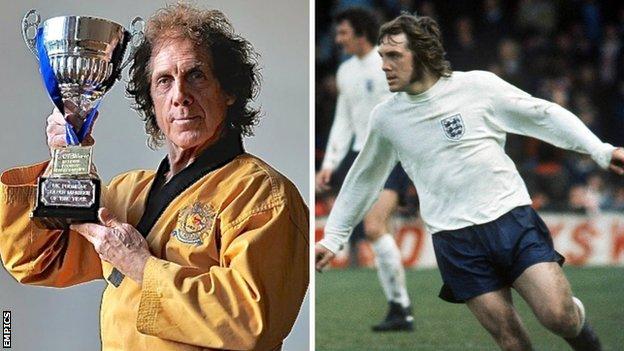 Mike Pejic is 67. He still competes at taekwondo. And, as national champion at his age group for the past five years, he is pretty good at it too.
His latest success in Nottingham earlier this month also brought automatic qualification for the world championships in Taipei in 2018.
And this time he is determined to kick his way to be becoming a world champion - at the fourth attempt.
But then Potteries-born Pejic was always rather good at kicking people, as any fellow professional footballer who came up against him the 1970s would freely testify.
"You had to compete to survive," he grins. "There were no rules."
In a bygone era when hard tacklers were loved rather than loathed, Pejic was once one of the most feared full-backs in football, mostly with his home town club Stoke City and Everton, then latterly at Aston Villa, where his career was ended prematurely by injury.
And he would have had more than just four full and eight under-23 caps for England, all under Sir Alf Ramsey, had it not been for the great World Cup winner's untimely sacking in 1974.
So just how did a former England footballer end up four decades later as not only a high-class performer in martial arts but also as a much respected teacher of taekwondo's values and skills?
How to get your kicks...
When Pejic was born in the Potteries village of Chesterton in 1950, taekwondo had barely been invented, having first been developed during the 1940s using a combination of karate and various other forms of Chinese and Korean martial arts.
But, having long been regarded as something of a fitness freak, in an era when certainly not all footballers were, Pejic was made for it. "I'd always worked on my flexibility," he said.
And it was something he was eventually to jump into, feet first.
"It was right back in my days at Everton when I first showed an interest," recalls Pejic. "The guy who used to look after the changing room was a big martial arts fan - and I used to often sit and down and talk about it with him.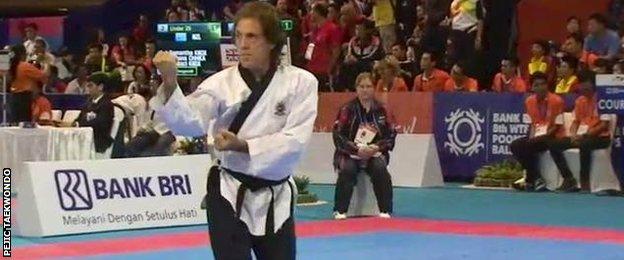 "I thought then that maybe I might take it up one day. It was a natural sport to go into. The upright stance at taekwondo is different from karate and kung fu and more suited to the sort of movement and style I'd known in football.
"And the things that you need in your make-up to compete at both are all very similar attributes. Body condition, diet, physical fitness, strength endurance, speed, power, agility, balance and co-ordination.
"Not to mention the mental preparation, self control, and the determination, discipline and will to succeed.
"I didn't take it up competitively until 2012, when I won the Northern Ireland and Scottish championships - and I've been champion of both ever since and national champion from 2013 onwards."
Successful in two sports
It's not unusual for sportsmen to succeed in more than one sport. After all, in sport, it often pays to think outside the box.
In a bygone Corinthian spirited age, the heroic deeds of CB Fry, who played cricket and football for England, are well documented.
Then there was the great JPR Williams - a junior tennis champion at Wimbledon who became a Wales and Lions rugby legend.
Liverpool and Scotland hero Alan Hansen could have been a professional golfer before turning to football.
Curtis Woodhouse became British light-welterweight champion after turning out in central midfield for Sheffield United and Birmingham City.
Even three times Grand National winner Red Rum began his racing career on the flat. Lev Yashin kept goal for the USSR in both football and ice hockey. And, in the days when the seasons did not overlap so much, there were many cricketers who played football or rugby in winter.
Of these, surely nothing can top Chris Balderstone's feat in September 1975 of turning out for Doncaster Rovers in a Division Four game against Brentford on the same day that he had played 30 miles away for eventual champions Leicestershire in a County Championship match against Derbyshire. He was 51 not out overnight and went on the next day to complete a match-winning century and take 3-28.
But what sets Pejic's achievement apart is the near 40-year timelag between making his England debut under Ramsey, in 1974, and first becoming national taekwondo champion, in 2013.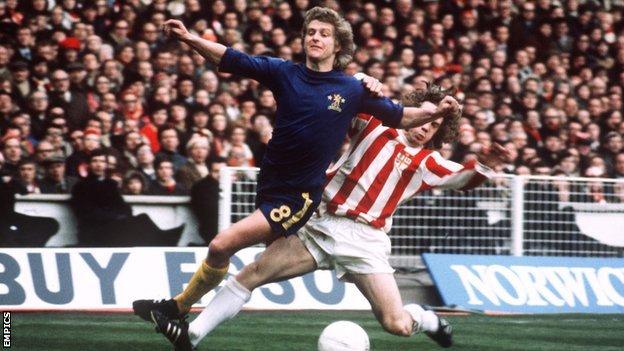 Pejic's path from the Potteries
At first, this son of a Serbian miner was more interested in football - and he was first attached to Stoke City on assistant schoolboy forms at 14.
"I was a winger back then, growing up," he recalls. "I got turned down at first. But I went working on a Corona pop lorry for a year. That built me up a bit more.
"One week I was out delivering pop, finished on the Friday, came in on the Tuesday for a trial game of 60 or 70 kids up against the likes of Calvin Palmer and Maurice Setters.
"This time they took me on with a 12-month apprenticeship. And I made sure I didn't look back. I had some great times. And my only regret is not playing more for England.
"Sir Alf, who had already capped me at under-23 level, gave me my full debut but, when he got sacked, Joe Mercer came in and he preferred Alec Lindsay from Liverpool."
Particularly frustrating was being picked for the 1974 summer tour of Europe when England even played Yugoslavia, birthplace of Pejic's Serbian father.
"Dad's family came up on the train from Belgrade just to see me sat on the bench," he recalls, with a grimace. "But that's another story."
How it finished
He went on to make 274 league appearances for his hometown club, all in the top flight during an eight-year period which brought their Wembley 1972 League Cup final win over Chelsea.
Pejic was then sold by Stoke to Everton for £135,000 in January 1977 as the Potters needed funds to help pay for the damage after a storm had blown off the stand roof.
He made 76 league appearances for Everton, helping the Toffees to finish third behind Nottingham Forest and Liverpool in 1977-78.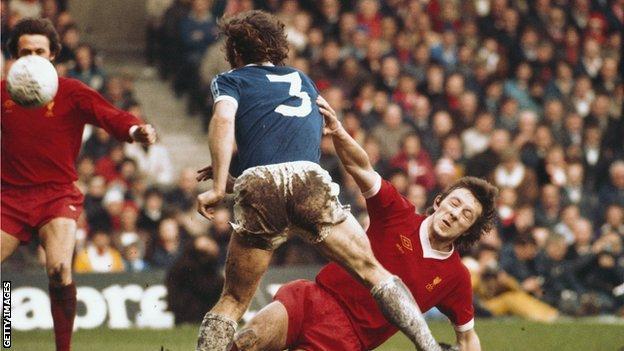 As a combative character, who was renowned for 'dishing it out', he had already survived a broken leg. But, after being recruited by Ron Saunders for Aston Villa in 1979, his general luck with injuries ran out.
When Pejic suffered a pelvic problem against Liverpool 10 games into his Villa career, it forced him to retire at just 29 - and he missed out on being part of a team bound in quick succession for league and European Cup glory.
His frustration doubled when it later became clear that it was only a double hernia that he had suffered and his career could have been extended by five years if the sort of minor keyhole surgery which is freely available now had existed then.
Life after football
"I had a rough time when I finished," said Pejic, whose younger brother Mel and nephew Shaun also became professional footballers. "There were some dark days."
He had spells in non-league management locally at Knypersley Victoria, Leek Town and Northwich Victoria, and spent six years "doing everything" at Port Vale, first as youth manager, then as first-team coach under John Rudge.
Then, in the summer of 1994, he took charge of newly-promoted Division Three side Chester City, whose manager Graham Barrow had just quit over a boardroom row.
It left Pejic with just two players on the books when he turned up for pre-season training. He lasted until a 4-0 home defeat by York City in early January. "An impossible job," he now admits.
But it was just before that short sojourn at Chester that his interest in martial arts began.
Having done his Football Association coaching badges, and then spent 18 months as regional director in the Midlands "coaching the coaches", he took coaching jobs in Zimbabwe, then Kuwait, where he first tried his luck at taekwondo.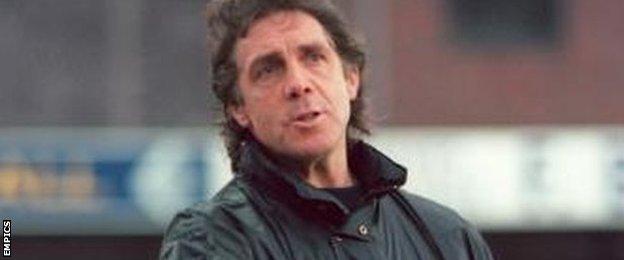 "I was out there working with Bobby Campbell, the old Fulham and Chelsea manager, at Al-Arabi," he explained. "It was 50-degree heat. But I trained an hour or two every day, six days a week under the stadium.
"But I got the buzz. And the challenge is massive when you start competing."
Pejic, who married for the third time this summer amid a blaze of publicity, hopes there is more to come.
He still keeps his hand in at football, worrying about the modern-day Potters as summariser on matches for BBC Radio Stoke. And he also does a weekly column in the daily Potteries paper, the Sentinel.
But he is now kept far busier by his adopted sport. And what gives Pejic just as much pleasure as any of his own success is seeing the growing achievements of the adults and particularly the juniors he teaches at his academy and the four classes a week he runs at an after-school club in Newcastle-under-Lyme
They were alongside him competing in Nottingham - and four of them, Izzy Mear (silver in the mini peewee, 2008+), Maya Stobiecka (bronze in the K2 peewee, 2007+), Harry Tomblin (bronze in the K1 peewee, 2006+) and nine-year-old paralympian Theo Matthews (silver in the P20 junior male) picked up medals.
And he fervently hopes that he will not be on his own in Taipei in August 2018.
Having finished 10th in his first world championships, in Bali, taken bronze in Mexico and silver in Peru, he hopes for a natural upward progression - both for him and, as a teacher, for his taekwondo pupils.