Celtic: Scott Brown says players need protection from fans throwing coins
Last updated on .From the section Celtic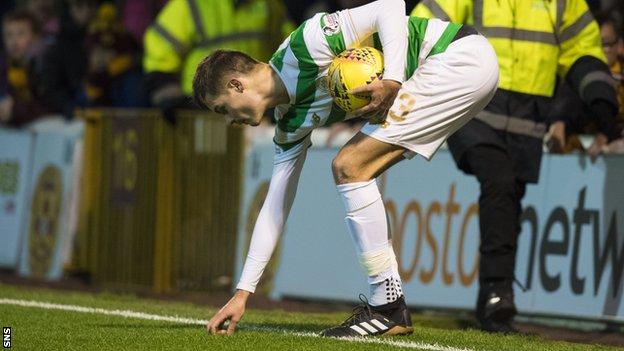 Players need more protection from spectators throwing coins at them or "someone will get hit on the head", Celtic captain Scott Brown says.
Brown believes he was targeted during Wednesday's 1-1 draw at Motherwell.
Objects were thrown around 10 minutes before half-time, with Brown and right-back Mikael Lustig then seen removing items from the pitch.
"People are getting hit by coins and getting stuff thrown at them pretty much every week now," Brown said.
"Just because we are doing so well in the league, away fans don't like that. We have understood it is part and parcel now of when you go away.
"Leigh Griffiths is taking a corner and getting things thrown at him. People have to make sure that we should be OK when you are going to take a corner or a free-kick.
"People can shout or sing whatever they want, but you can't throw things. It isn't showing a great example, is it?
"It is more when you go away from home, and it is starting to get more and more. We are just getting used to it now.
"You go and take a corner, and you have got to look over your shoulder to see what is coming."
Brown initially quipped: "I made a pound again - I am getting good at this game." But he believes the potential for injury is obvious, although doubts any action will be taken.
"Eventually someone will [get injured]," he said. "Someone will get hit on the head, or something, with a coin. Until that happens, probably no-one will do anything about it.
"It is hard to be fair. You can't see right away who has thrown a coin, but there is CCTV at games and you can look at that."
Meanwhile, Brown believes the furore over the controversial penalties awarded against Motherwell - first in Sunday's League Cup final, and again on Wednesday as Celtic salvaged a draw to preserve their 66-match unbeaten domestic run - has overshadowed decisions that have gone against Celtic.
"They [Motherwell] managed to get a free-kick and they scored from that, and it was definitely not a free-kick. But nobody says anything about that," the midfielder added.
"They should have had a straight red [card] in the cup final as well. That kind of got passed over by the penalty decision.
"What goes around, comes around. We have had a lot of decisions against us; they have had a lot of decisions against them. We just get on with it and not say too much about it.
'This is a group of players who are super-honest'
Celtic manager Brendan Rodgers, who confirmed winger Patrick Roberts will miss next week's Champions League home match against Anderlecht with a recurrence of a hamstring injury, also defended his players against accusations they have dived to win penalties in the last two games.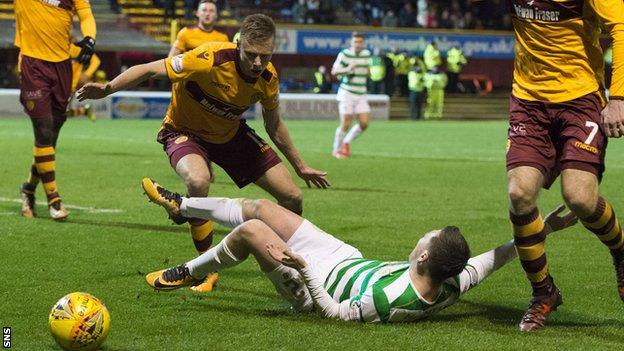 Winger Scott Sinclair appeared to go down easily after going past Cedric Kipre in their 2-0 League Cup final win, while Callum McGregor took a tumble on Wednesday after a challenge by Andy Rose, who later claimed McGregor "played for it".
"I think we won the Fair Play award last year," said Rodgers. "We have values here as a club as well as a team and that is something that we always go by.
"We have had two penalty decisions that have been the first two penalties of this season [Celtic have actually scored penalties against Kilmarnock and Dundee, both in the League Cup], of course, against the same opponent.
"You will always look at it from your perspective and I thought they were penalties.
"But this is a group of players who are super-honest and the referees have both been in good positions and gave both.
"We don't need validation from anyone. We like to win on the scoreboard but we also like to do it by being the most sporting team and I think we showed that last year and also up until now."