Brighton v Crystal Palace crowd trouble: Two stewards in hospital as fans shut out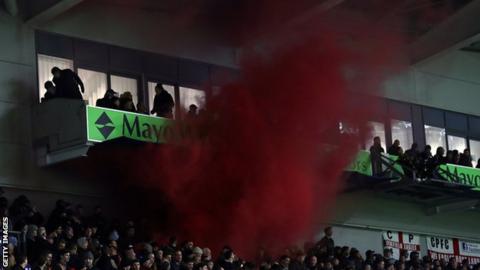 Two stewards were taken to hospital after crowd trouble broke out at Brighton's home Premier League game against rivals Crystal Palace.
Brighton said Palace supporters who had travelled without tickets tried to force their way into the stadium.
The decision was taken to close turnstiles early and some fans with tickets could not see Tuesday's match.
Seagulls chief executive Paul Barber said the "swift action" had "avoided further, major disorder".
"We hope the two stewards hospitalised in the disorder have not suffered serious injuries," he added.
"A minority came intent on causing disorder, which left several stewards with minor injuries, and one steward from each club hospitalised," a Brighton statement said.
The club added that "a number of Crystal Palace fans" arrived after the 19:45 GMT kick-off and tried to force their way into the ground.
Police and the club then decided to close turnstiles early "in the interest of public safety" - just six minutes into the game - which meant fans with tickets who arrived late could not get in.
"A group of about 150 fans - some with tickets - were then escorted back to Falmer station, and onto Brighton Station, before being placed on a train back to London," the club said.
Barber added: "While some genuine fans were left extremely disappointed and unable to get into the stadium, the correct decisions were made."
Sussex Police said they will be viewing CCTV images to identify troublemakers.
Fans with tickets who were stopped from seeing the game have been asked to contact Crystal Palace's ticket office for a refund.
The game finished 0-0.