Chapecoense plane crash: How the club is still defying the odds one year on
Last updated on .From the section Football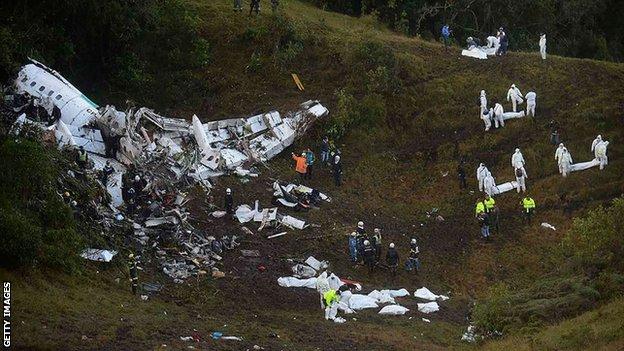 On the night of Monday, 28 November last year I did a radio report on Chapecoense, a club from a small town in southern Brazil who had made remarkable progress.
Inside a decade they had progressed from outside Brazil's four national divisions to become the first club from the country to make it to a continental final since 2013.
At that very moment, they were on their way to Medellin in Colombia for the first leg of the final of the Copa Sudamericana, a Europa League equivalent, against Atletico Nacional.
A few hours later I was woken up by a phone call. Their plane had gone down on its approach to Medellin airport.
I scurried for details. Along with the team, coaching staff and directors there were plenty of journalists on board - including, I was alarmed to see, a friend of mine - Paulo Julio Clement, known to everyone as PJ.
The early details brought hope. There were survivors. It seemed there might be many of them. The local authorities requested those in the area with SUVs come to help ferry them to hospital. There was a chance.
I sent a text message to Paulo, and kept answering the phone and doing radio and TV reports.
By coincidence, that morning I was booked to do the Brazilian TV show on which I had got to know Paulo. I could have cancelled, and kept on doing radio work in English. But being on the show seemed the right thing to do, and so we spent the morning on air as the news kept coming in.
It was a rollercoaster. Goalkeeper Danilo, whose heroics had taken Chapecoense to the final, was found alive - but died soon afterwards.
The search for survivors was abandoned. There was no more hope. But then centre-back Neto was found alive. Perhaps there would be others.
There were not.
In all, of 77 people on board, 71 lost their lives.
Two of the crew - air hostess Ximena Suarez and technician Erwin Tumuri - survived along with three players - Neto, midfielder Alan Ruschel and goalkeeper Jakson Follmann.
Ruschel has resumed his career with the club, Neto is in training to make a comeback next year and Follmann, who lost part of a leg, had to retire.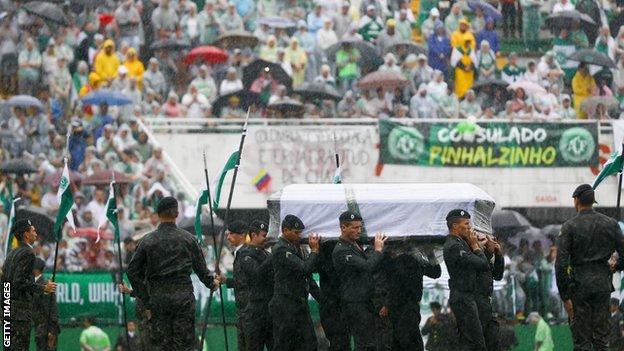 All of the coaching staff and directors died, along with 20 journalists. One, Rafael Henzel, survived.
The coffins of the deceased were flown back to Chapeco for a deeply moving service in driving rain.
Equally touching was the gesture of the Colombian team, Atletico Nacional.
At the time the match was to have been played they threw the doors of the stadium open and, with in front of a packed house with thousands outside the ground, held a heartfelt service.
Nacional suggested Chapecoense be awarded the Copa Sudamericana title.
This was more than just a symbolic gesture.
It also ensured Chapecoense would make their debut in the Copa Libertadores, South America's Champions League, bringing in much-needed revenue for a club facing a daunting task of rebuilding.
Three managers and an ineligible player - but Chapecoense stay up
After the disaster, it was suggested Chapecoense might be protected from relegation for two or three years to give them time to rebuild.
The club were quick to dismiss the proposal.
They wanted to stand or fall by their own merits. They were giving themselves a Herculean task, but it was made a little easier by two factors.
First, there is often considerable end-of-year turnover at Brazilian clubs - teams can often go through big changes.
The same methodical steps were taken that had served the club so well in its rise. The coaching staff had indicated some future transfer targets, which were followed up. Respected coach Vagner Mancini came in to take charge, and other clubs helped out by sending players on loan.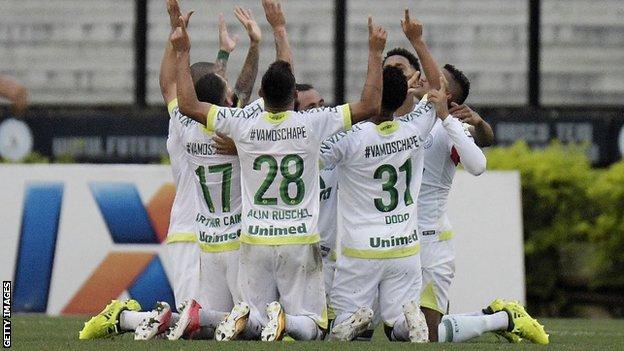 Second, they had a few months to find a blend - the first division did not start until the middle of May.
In Brazil, the opening few months of the year are given over to the State Championships - Chapecoense compete in the state of Santa Catarina.
So they had some time to build for the big challenge - and, when it finally started, they began the first division campaign very well. After the first few rounds, exactly six months after the accident, they were top of the table.
It would clearly be impossible to maintain such momentum, but those early points proved very useful.
Chapecoense also performed with great credit in their debut Libertadores campaign, and it could have been even better.
Big centre-back Luiz Otavio was suspended for their trip to Lanus of Argentina in the middle of May.
It seems there had been some mix-up in sending out the confirmation email, but the club were informed before kick-off that he was not eligible.
They picked him anyway - and he scored the decisive goal in their 2-1 win.
The game was awarded to Lanus - and the lost points cost Chapecoense their place in the knockout phase.
Lanus, meanwhile, are contesting the final against Gremio of Brazil, with the second leg on Wednesday.
Chapecoense, then, were back in the Copa Sudamericana.
But their quest to retain the title ended with a 4-0 aggregate defeat by compatriots Flamengo.
There was some controversy with the first goal - though it seems the referee was correct.
Chapecoense striker Wellington Paulista, briefly of West Ham, was not happy.
"They sent a referee from Bolivia, or wherever, to complicate the game," he said. "We had a chance. But this ref from Bolivia, or wherever, put an end to our dream."
The referee was in fact from Peru, and the taint of prejudice in Wellington Paulista's comments was especially sad coming from a player of Chapecoense, a club whose suffering had united the continent.
In addition to their continental adventures, Chapecoense also played a friendly in Barcelona in August, with Ruschel returning to the field in a match that raised the club's profile in Europe.
But ensuring first division survival had always been the club's priority.
After the encouraging start to the campaign, things rapidly became more difficult for Chapecoense.
Vagner Mancini's strategy was aggressive. He reasoned the road to salvation lay in taking risks to ensure enough games were won. But the team started to leak goals - and defensive solidity traditionally has a high value in the south of Brazil.
Mancini was sacked and replaced by youth specialist Vinicius Eutropio, but the team's away form slumped, and the experienced Gilson Kleina was brought in.
He has overseen a strong finish to the campaign, with the team pulling away from the relegation dogfight and making sure of their place in next year's first division with four rounds still to go - a mighty achievement.
The season ends on Sunday with a home match against Coritiba, and Rui Costa - the director in charge of football - said of staying up: "I feel like a winner of the Champions League."
A difficult year off the field
Investigations are ongoing, but the cause of the crash seems clear enough.
The aeroplane was operating at the very limit of its fuel capacity, and should have refuelled between Santa Cruz de la Sierra in Bolivia and Medellin.
The little LaMia airline had recently established itself as a specialist in carrying football teams around South America.
Shortly before the same aircraft had taken Argentina, Lionel Messi and all, on a long journey that was also dangerously close to fuel capacity.
LaMia had two operational aircraft and their licence was suspended shortly after the crash.
Celia Castedo, from the Bolivian air authority, had apparently pointed out beforehand the obvious deficiency in the flight plan, though she says she had no power to prevent the plane from taking off.
Fearing for her life, Castedo quickly left Bolivia to seek asylum in Brazil and has spent the past year there.
By the end of 2016 an investigation by Colombian officials said there was no technical failure and blamed the pilot, the airline and Bolivian regulators.
Back in Chapecoense, two associations have been formed to represent the families of those who perished - although there is considerable overlap between them.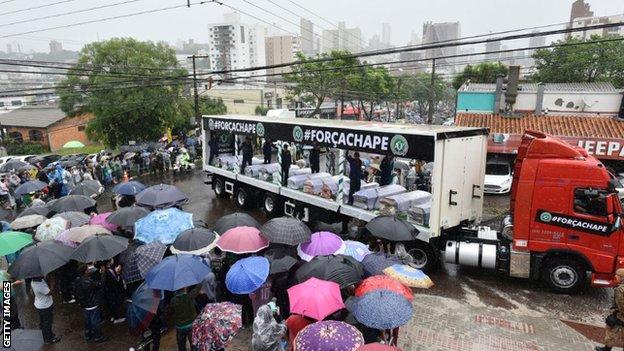 ABRAVIC have been dealing with day-to-day issues, such as school fees and medical bills.
AFAV-C is focused more on bureaucratic and legal problems - such as the potentially complex question of the extent of Chapecoense's liability for the accident.
There have been tensions.
The president of AFAV-C is Fabiane Belle, wife of the club physiologist.
"After the initial commotion," she said, "we did not have any crisis management. We were left without support."
ABRAVIC president Gabriel Santos Cordeiro de Andrade said "we had a little problem at the beginning. As Chapecoense lost many directors, they had organisational difficulties in the first months, but now we're moving towards an agreement".
Those who died a year ago will never be forgotten by the people of Chapeco, and their memory has been honoured by the displays of the team in 2017.
In the long term a small-town provincial club can hardly hope to compete on equal terms with the giants of the Brazilian game.
But with the same low-profile solid approach that has served them so well in recent times, Chapecoense will aim to keep punching well above their weight.