How Everton's pursuit of a new manager has gone horribly wrong - Kevin Kilbane

By Kevin Kilbane
Former Everton winger and MOTD2 pundit
Last updated on .From the section Everton

Everton are in a total mess at the moment - on and off the pitch.
Their pursuit of a new manager has also gone horribly wrong. On Monday it will be 35 days since they sacked Ronald Koeman and, in that time, their performances have actually got worse.
Because of their results under caretaker manager David Unsworth, and the way they have played, any confidence has completely seeped out of the team. Mentally, the players look shot.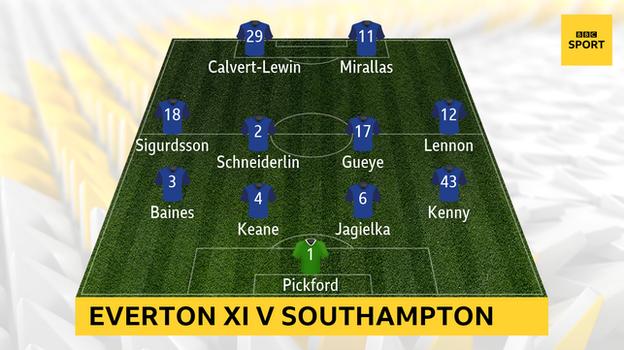 The club's majority shareholder Farhad Moshiri said on Friday that they are close to appointing a new manager.
But in the situation they are in, close is not good enough.
Everton have to face up to the fact they are in a relegation scrap - and they are at the stage where they just need to make a decision and get this done.
What do Everton need? Leadership
Failing to appoint a manager for so long has left Unsworth in a really difficult position.
His record as caretaker is poor, but I don't put that down to the players not playing for him - it is more a demonstration of how much the uncertainty around the club is affecting everyone, including the team.
Everton need some leadership, and they will only get that from a strong manager who is a recognised figurehead for the club, not one who is only there on a short-term basis.
Watford manager Marco Silva was clearly their first choice and, from what he has been saying, the way I read that situation is that Silva wants to go to Everton as well.
But the Hornets are digging their heels in about making him stay, and quite rightly so given the excellent job he is doing there.
The longer that goes on, the more unlikely it looks that Everton will get that deal done, and I don't think the way they have gone about it reflects particularly well on the club.
Everton could surely have made an approach in private and, if it had been rejected, they could have quietly moved on to their next choice.
Instead, there are so many different names being thrown into the frame that it looks like they don't really know which manager they want to go for.
It is almost as if they are considering every manager who has become available and, to me, it does not seem like there is a plan in place.
Since Koeman left, West Ham have sacked Slaven Bilic and chosen David Moyes as the man to turn things around. He has already been in charge for two games.
You have to wonder exactly what has been going on in the Everton boardroom during that time, while the team has been in freefall.
Whatever has been happening, it is time to sort it out.
Who is the man to turn things around?
According to the latest odds, Burnley manager Sean Dyche is still in the running and I said right at the start, when Koeman left, that he seems like the perfect fit.
But getting Dyche - if indeed they want him - is going to take time and would cost money too. If it is going to happen, it is going to take a lot of work to get it over the line.
There are lots of other names being talked about too. Sam Allardyce has been linked for a while now, while Republic of Ireland boss Martin O'Neill has supposedly come into the frame this week.
All of a sudden, Tony Pulis's name is in there too, after he was sacked by West Brom last week.
If you had mentioned Pulis as potentially being Everton's next manager five weeks ago, when they sacked Koeman, then some people might have laughed at you. They were supposed to be getting someone to take them to the next level, which was what Koeman was meant to do.
But Everton have now slipped into such a bad position that Pulis is the sort of name that you think could fit the bill.
He might not be a long-term appointment, or the man to take a team into the top six, but he is well known for keeping teams up and survival is what this season is all about for Everton now.
Getting some belief back - and some points on the board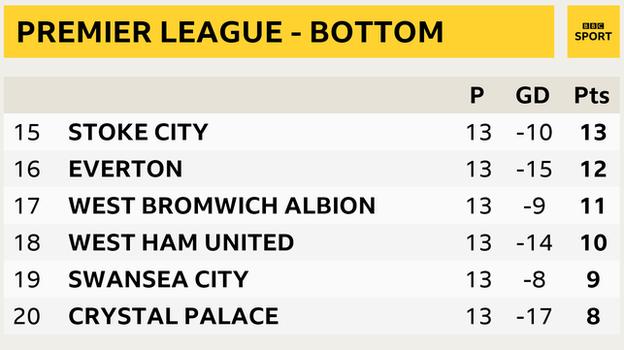 Everton have been in these relegation scraps before, in the 1990s, so many of their fans will know what it takes to get out of trouble.
But at the moment, when I watch them I do not see a team that is able to go out and do that.
There are plenty of teams in the bottom half of the table that are organised, disciplined and difficult to play though, but Everton are not one of them.
They were run ragged by Saints, just days after conceding five goals at home to Atalanta in the Europa League.
Next up are two home games against teams close to the Toffees in the table - West Ham on Wednesday and Huddersfield on Saturday. Huddersfield are three points above them, the Hammers are two points below.
I still think Everton have enough quality to stay up, but they desperately need to put some points on the board soon, especially at Goodison Park.
It is hard to see that happening under the current set-up so whether it is Moshiri or the chairman Bill Kenwright who is going to make the big decision, it has to happen now.
Until it does, the club cannot start moving forward again.
Kevin Kilbane was speaking to BBC Sport's Chris Bevan.