World Cup 2018: England's best and worst scenarios in Russia
By Patrick Jennings
BBC Sport
Last updated on .From the section Football66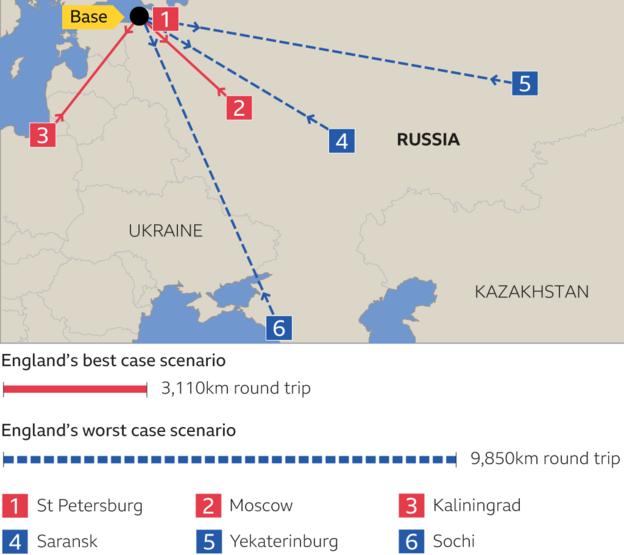 In a country that covers one eighth of all the earth's inhabited land, 32 nations will compete for the biggest prize in football next summer.
The next stage of the journey for the teams that qualified begins with Friday's World Cup draw.
England could start in Kaliningrad, Russia's ice-free outpost on the Baltic coast, or 2,500km east in Yekaterinburg - where the Bolsheviks executed Russia's royal family in July 1918.
If they're lucky, they won't be the team that gets a group stage round trip of almost 10,000km.
So what is their dream draw? Will the weather be an issue? And what about the fans?
Racking up the miles
England have a 54% chance of getting a draw that requires more travelling than the approximate 7,100km they covered in exiting the 2014 World Cup in Brazil.
Thirteen of the 24 possible outcomes open to Gareth Southgate's side will see them clock up even more.
The nightmare draw? That would be position C3.
First game in Saransk, then way out east to Yekaterinburg, and finally to the most southerly venue, Sochi. That's a round trip - heading back to their base near St Petersburg after all the games - of around 9,850km.
There are four other possibilities that all total over 9,000km:
A4 -

Yekaterinburg, Rostov, Samara (about 9,720km)

F3 -

Nizhniy Novgorod, Sochi, Yekaterinburg (about 9,440km)

C2 -

Kazan, Samara, Sochi (about 9,330km)

H4 -

Saransk, Yekaterinburg, Volgograd (about 9,100km)
The golden ticket?
Position B3 would see England travel about 3,110km - the least they can hope for.
That would see them play a first game in St Petersburg (about 50km from where they are training), followed by matches in Moscow (about an hour's flight) and Kaliningrad (about an hour and a half by plane).
Only three other draws open to England total less than 5,000km in travelling:
B4 -

St Petersburg, Kazan, Saransk (about 4,860km)

E3 -

Samara, St Petersburg, Nizhniy Novgorod (about 4,910km)

D4 -

Kaliningrad, Volgograd, St Petersburg (about 4,930km)
In a country whose top flight features the world's most epic away day - Khabarovsk to Krasnodar and back is about 14,000km, the same as a return trip from London to Angola - things could be worse.
The reality is that plenty of Russia won't witness the World Cup first hand, because the 11 host cities are all situated in the west of the country.
So it's just 2,500km between Kaliningrad - the most westerly venue as it is a Russian exclave sandwiched between Poland and Lithuania - and Yekaterinburg, the furthest east, beyond the Ural mountains, where Asia begins.
What about the time zones?
If England do have to drift a long way from their Repino base, they could start moving into different time zones - Russia has 11 of them.
Fans watching a match in Kaliningrad from the volcanic peninsula of Kamchatka in the country's far east will be 10 hours ahead of the action - it's the same time zone as Fiji.
Kaliningrad is one of three host cities on a different time to Moscow - which is two hours ahead of the UK in summer because Russia doesn't use daylight saving time. They abolished it in 2014.
Kaliningrad

, to the west of Moscow, is an hour behind the capital (so only one hour ahead of the UK in summer)

Samara,

to the east, is an hour ahead of Moscow (three hours ahead of the UK in summer)

Yekaterinburg

is two hours ahead of the capital (four hours ahead of the UK in summer)
Jetlag can be at its worst when travelling east, and although losing just one or two hours before kick-off might not be a huge problem, it's nonetheless something England would likely prefer to avoid.
There is a 29% chance they will be drawn to play in Yekaterinburg, while two draw outcomes would see them have to play in both Samara and Yekaterinburg, which would mean losing time on journeys before games twice. They are:
A4 -

Yekaterinburg, Rostov and Samara

H2 -

Moscow, Yekaterinburg, Samara
The second of these looks to be a worse scenario for England.
If they were drawn in H2, they'd play in Yekaterinburg on 24 June at 20:00 local time, losing two hours on the three-hour flight from St Petersburg to get there.
Four days later, they'd play their final game in Samara at 18:00 local time, losing one hour after a two-hour journey by plane.
And the weather?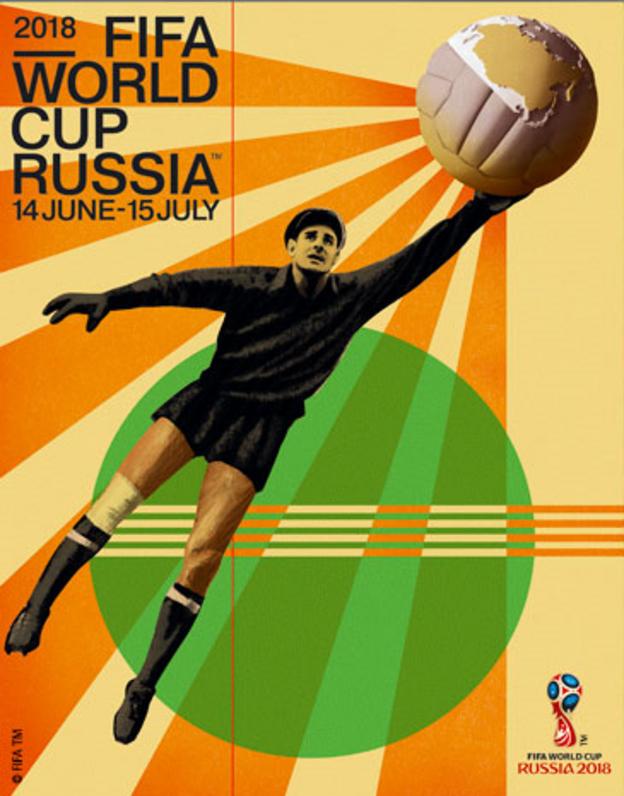 In a country where winter temperatures plummet to among the coldest on the earth, summer is a big thing.
So much so that the Russian word summer (лет, pronounced: 'lyeto') doubles up as one of two words for year. You count the time in hot months gone by.
Summer means kvas (a traditional drink brewed from rye bread and often sold in metal vats on the street), watermelon and white nights - if you're in the north that is.
It was 16 degrees centigrade and cloudy in Moscow on 14 June this year - that's the date for the World Cup opener in 2018, when Russia play team A2 (which could be England).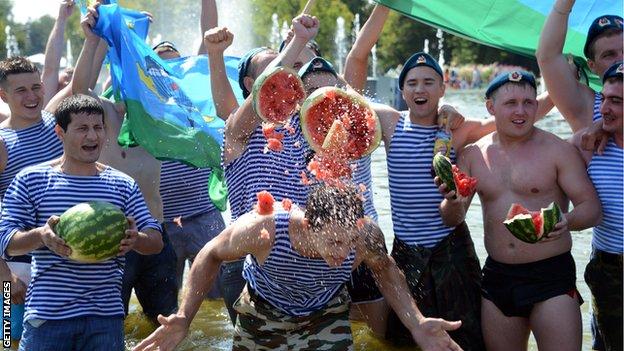 That's unseasonably cold for Russia's capital, but there certainly won't be ice and snow - and nor will there be the kind of scorching hot kick-offs that had England sweating in the Amazon in 2014.
The hottest games should be in the south. In Volgograd and Rostov, high temperatures average between 25 and 29 degrees across June and July.
It got up to 33 degrees in Rostov in June last year - and England would start their campaign there if they were drawn into E2.
As for the fans...
The sleeper train is your friend; crowded, chaotic, convivial. And it saves on the hotel bills. Set yourself up in the restaurant car and the days will fly by.
If you were following England along their nightmare C3 scenario - first game in Saransk, then Yekaterinburg and finally Sochi - then after flying in to Moscow, you'd be in for a 3,500km journey totalling around 105 hours, give or take a few delays.
Moscow to Saransk by train is about nine hours

Saransk to Yekaterinburg is about 23 hours

Yekaterinburg to Sochi is 73 hours by train (the cheapest tickets for that service are around £65)
You'd possibly even have time to nip over into Kazakhstan. The match in Yekaterinburg is on 21 June, an ample five days before the group would close in Sochi.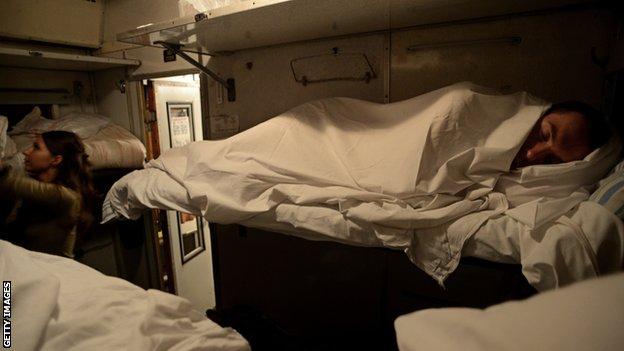 Probably the easiest draw from a perspective of fan journeys would be if England landed H3: first game Saransk, then Kazan, then Samara.
Again, taking the train after landing in Moscow, that would be a journey of about 1,121km - much less than the distance fans covered between Marseille, Lens and St Etienne at Euro 2016 (which was about 2,500km starting in Paris).
What about the knockout stage? Well, if England were to win Group H, their last-16 match would be in Moscow - for the runners-up, it's Rostov.
It's also worth mentioning that in some 'luxury' and first-class Russian train carriages newlyweds get a discount. If it's less than a month since the big day, you can get 35% off.
So above all else, plan your summers wisely.