Michael Carrick: Man Utd captain reveals he has had a heart procedure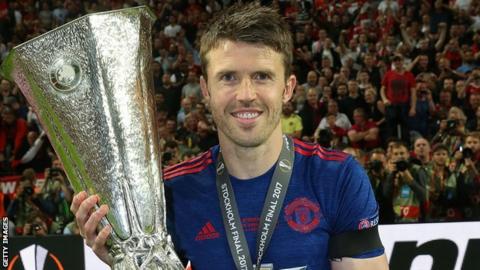 Manchester United captain Michael Carrick has revealed he has not played since September because of an irregular heart rhythm.
The 36-year-old has played just once this season, in the 4-1 win against Burton in the Carabao Cup third round on 20 September.
Carrick says he "felt strange" during the second half of the game and after tests had a cardiac ablation procedure.
He said in a statement: "I'm healthy and back training hard with the team."
The England midfielder says he was "monitored closely" and "aiming to be back in contention for selection soon."
The British Heart Foundation says an ablation is a treatment that aims to control or correct certain types of abnormal heart rhythms.
Carrick joined Manchester United from Tottenham in 2006 and has won five Premier League titles, the Champions League, Europa League and Fifa Club World Cup with the club.
Carrick statement in full
I just want to clear up my situation as I've had quite a few people asking if I'm OK and why I haven't been fit over the last couple of months.
After feeling strange during the second half of the Burton game in September, I underwent a series of tests. It turned out to be due to an irregular heart rhythm which has been fully investigated and I had a procedure called a cardiac ablation.
I had to build up training steadily whilst being monitored closely but I feel fine now.
I would like to reassure everyone that I'm healthy and back training hard with the team. I'm building up my fitness and aiming to be back in contention for selection soon