Motherwell: 'Did we make mistakes? Absolutely' - John Boyle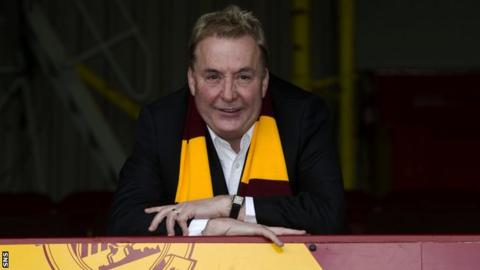 It's been six years since John Boyle stepped aside as chairman of Motherwell, but he's never really allowed himself to completely let go.
The Lanarkshire man, who went on to become one of the most flamboyant owners in Scottish football, bought the club in 1998 and enjoyed incredible highs and heartbreaking lows.
Since handing over control, he's been focused on making the club a successful fan ownership model. He now believes Sunday's Scottish League Cup final against Celtic will mark not only the moment he can properly let go, but also the start of something new and sustainable at Fir Park.
What's the significance of this match to you?
"Sunday is a really significant milestone. The revenue that Motherwell have gained they can lock away and it makes the club more secure and underlines the fan ownership situation. You have to have a few bob locked away in case things don't work out right in the next couple of years. So Sunday is a red letter day.
"I'm full of admiration for the guys at the club in terms of how they've handled this historic day. I mean Alan Burrows was a rookie guy 10 years ago and now is one of the more exciting chief executives. Everyone involved has stuck to their guns. In Lanarkshire it's very difficult to raise funds but they've got a really exciting model and the society genuinely own the shares and control the club."
Why did you want to get involved at the time?
"I come from Motherwell, my father had a shop in Motherwell. I grew up in the area and I was a fan, so that was the first thing. The second part is that it was a very turbulent time in the local history. The trauma of the closure of Ravenscraig (Steelworks), which really bit at the town. I mean there were thousands of families in distress and it was a catastrophic time, so without trying to overegg anything, I wanted very much to put something back into the community that I grew up in.
"Very often the local football team can be the spirit of the community and I just thought we could do something to make things a little bit better."
Tell me about your biggest high during your time.
"In terms of good humour it was all the European forays. Odense, Nancy, Iceland, I mean we went to a lot of places. I mean for four or five years it became our sort of ritual.
"The tensest I've felt was in Odense when I just thought we might have a chance of qualifying, which would have had huge financial implications, but I liked the jollies! I just thought they were great. I remember going to Nancy and there must have been 3,000 Motherwell fans in this beautiful historic town and it was just great fun."
On the flip side, were you guilty of spending money that wasn't there?
"Well, the answer to that is yes but not recklessly. Did we make mistakes? Absolutely. Did we overpay for things? Absolutely.
"It was in the backdrop of what was generally assumed to be a lucrative TV deal with Sky. When that deal faded and failed, it put a lot of clubs on the back foot, including Motherwell. The finances in the longer term were unsustainable when the TV deal fell through. It was as simple as that."
And, of course, the pain of administration doesn't even come close to the pain of losing Phil O'Donnell.
"I was in Australia with my family at the time, it was difficult to take in. I came back immediately but it had such a deep and lasting impact on the club.
"He was the epitome of everything that was good about sport; everything that was good about Motherwell. To be tragically taken away in that manner, it was absolutely unbelievable and still to this day he has a huge part to play at the club. It was a very painful experience."
So, what happened between you and Craig Brown in that infamous pitch-side bust-up?
"I was annoyed with Craig Brown but what I said to him that day will be for his ears only. I was frustrated because I felt he had left Motherwell in the lurch.
"I have a passion for the club and I didn't like the demeanour of Craig and Archie Knox's departure. I'm happy to say we have absolutely made up since, shaken hands and everything is fine."
Prediction for the Sunday's League Cup final.
"The word is hope. I mean Celtic are unbeaten in how many ever gazillion games and they rise to the occasion. Their second home is Hampden and they have an exceptionally good squad and clearly they are the favourites.
"You just hope there's a little upset. All I know is that those players and that manager are absolutely committed to giving it everything. You just never know - we might get a result."