Alex Neil: Preston North End boss holds no grudges against Norwich City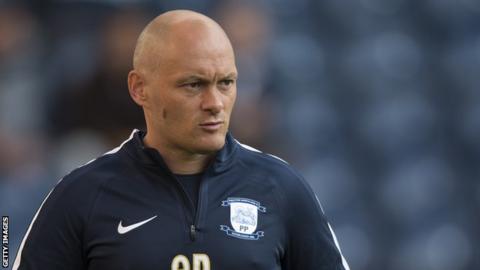 Preston North End boss Alex Neil says there are no grudges held against Norwich City as he prepares to face his former side on Saturday.
Neil, 36, was appointed manager of the Canaries in 2015 and led the club to the Premier League in his first season.
The club were relegated after just one term in the top flight and Neil was sacked by Norwich in March.
"Regardless of who I've played for or managed, memories will always be with me, good or bad," Neil said.
Speaking to BBC Radio Lancashire, Neil continued: "I'm still only 36, although I might not look it, and there's a lot of things I've managed to achieve but equally there's a lot I would like to go on and achieve as well.
"Norwich gave me the platform for that and there's no grudges held from me towards anybody at the club or the club itself."
Neil was appointed Preston boss after Simon Grayson left for Sunderland in the summer and despite his age, insists he is learning a lot as a manager.
"The more you do things, the more you come across different experiences and the more you confront them, the more you get used to doing them," the Scot added.
"Naturally you start to get better at decision making and you become calmer in terms of getting into these situations because you've been in them before."