Bristol Rovers: Chairman Steve Hamer defends club's progress on stadium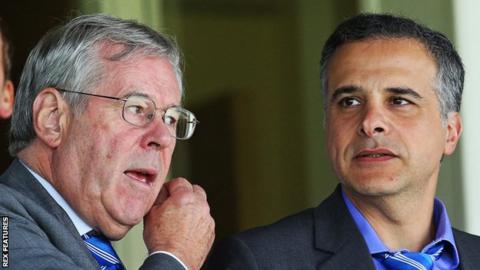 Bristol Rovers chairman Steve Hamer has defended the club's progress in redeveloping the Memorial Stadium and building a new training ground.
Rovers fans have been left frustrated by the lack of movement since plans were initially outlined in the summer.
Manager Darrell Clarke said it is hard to move forward with infrastructure that is "30 years behind the times".
"Everybody is frustrated. It's a bit like taking over a building that's been derelict for a long time," Hamer said.
Rovers abandoned plans to build a new stadium at the University of West of England in 3 August after they were unable to agree terms.
And owner Wael al-Qadi confirmed six days later that the club would instead look to redevelop their current home to provide fans with "something they have dreamt of".
In February, the Al-Qadi family business Dwane Sports Group purchased 28 acres of land in Almondsbury on which to build a new training ground.
However, Hamer was unable to put a timescale on the stadium's development, telling BBC Radio Bristol "it's marathon, not a sprint".
"Preliminary conversations are taking place but it's going to take a bit longer than we think," he said.
"My recommendation as chairman of the football club is you've got to develop it [the Memorial Stadium] stage by stage, stand by stand and we'll look into doing that.
"It's the owners' decision [but] it's the only option - it's what's required and what's needed."
'Reality kicked in'
Hamer said the club were currently "in the throes of getting planning permission" for the new training ground, to be known as The Colony.
However, the original target to have it ready for June 2018 has been revised to July 2019 because of financial constraints.
He continued: "There was [originally] a bold plan to go 'all singing, all dancing' and produce a Premier League equivalent and then obviously reality kicks in and there are costs that have to be met and it gets very, very expensive.
"So what we thought we'd rather do is do it in phases. We've realised now in terms of affordability what we really need to do is build up a phase of the best then build on it every year as and when we can."
'£12m invested in the club'
The Al-Qadi family, from Jordan, completed their takeover of Rovers in February 2016, and the club won promotion to League One via the play-offs three months later.
But they are currently 17th in the table, just three points above the relegation zone, and out of all cup competitions, with Clarke calling for further investment.
Hamer defended the Al-Qadi's commitment to the club, saying that although they were "shrewd, hard taskmasters", Clarke would be able to "freshen up" the squad in the January transfer window.
"We've been here 19 months and the owner has invested over £12m in the club - that's a lot of money in 19 months," he added.
"I think you've got to give them great credit for that - they're a division one football club, not many have had that sort of money thrown at them."
Meanwhile, Hamer confirmed that forward Billy Bodin is considering an "improved and extended contract" that was offered to him last month.