Man Utd: Eric Cantona says Pep Guardiola would be more 'logical' as manager
Last updated on .From the section Man Utd345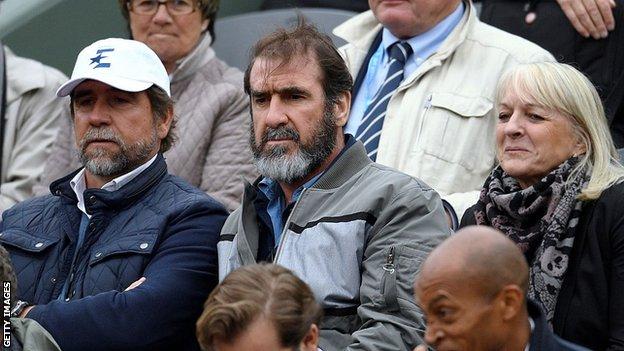 Manchester United great Eric Cantona says he admires Old Trafford boss Jose Mourinho - but would prefer Manchester City's Pep Guardiola to manage his former club.
Cantona, who spent five years at United between 1992 and 1997, described Portuguese Mourinho as "a winner who will continue to win".
But the Frenchman also told BBC Radio Four's Today programme: "He is playing in this defensive way, which is not the identity of Manchester United.
"Both Guardiola and Mourinho are great, but I prefer attacking football, when it's more creative. It's the way I tried to play all my career."
Speaking later on BBC Radio 5 live, Cantona added: "I cannot understand why United would take a manager who plays in a defensive way. I love Mourinho, but I prefer to watch Barcelona play.
"I prefer the way Guardiola plays, and I would prefer him as manager of Manchester United, it's more logical. I don't watch Man City because it's Man City but I would love to watch the team managed by Guardiola."
United are second in the Premier League, trailing Guardiola's City side by eight points.
City have won 17 consecutive matches, scoring 54 goals during an unbeaten run that stretches 19 games in all competitions since August.
By comparison, United have scored 11 goals fewer, while losing four of their 20 matches since the start of the season.
Mourinho was later on Friday asked about his team's style during a news conference previewing Saturday's home match with Brighton.
He said: "More ambition than we do at home I think is quite difficult. I don't know who is more ambitious than us.
"We played against Newcastle with [Paul] Pogba, [Marcus] Rashford, [Anthony] Martial, [Juan] Mata, [Romelu] Lukaku.
"The full-backs are not full-backs - [Antonio] Valencia and Ashley Young. Everybody knows that they are wingers, not full-backs. So I don't know what you want."