FAI report alleged racist abuse of Cyrus Christie to police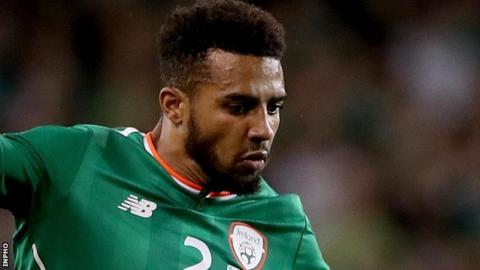 The Football Association of Ireland has referred allegedly racist abuse of Cyrus Christie to police.
The 25-year-old defender scored an own goal in the Republic of Ireland's 5-1 World Cup play-off defeat by Denmark.
PFA Ireland and anti-racism charity Show Racism the Red Card issued a joint statement on Monday condemning Twitter posts they say urged Christie to go to Jamaica and talked of lynching him.
"It is deeply saddening that racism is still part of the game," Christie said.
"I strongly believe we need to stand up against these individuals who do not belong in football.
"We were all deeply upset not to reach the World Cup finals and are hurting just as everyone else."
Governing body the FAI has reported the issue to the Gardai.
Christie's international team-mate James McClean spoke about the situation during the PFA Ireland awards dinner which took place on Saturday.
"We fully support all efforts to stamp out racism from the game and that includes comments targeting players on social media," PFA Ireland's general secretary Stephen McGuinness said.
"The nature of this incident is really shocking and no player should be subjected to that and we hope that the perpetrator is called to account."
Garrett Mullan, a director of Show Racism the Red Card, called for social networks to play a proactive part in weeding out such abuse and praised McClean for speaking out.