Garth Crooks' team of the week: Ozil, Sanchez, Salah, Wilson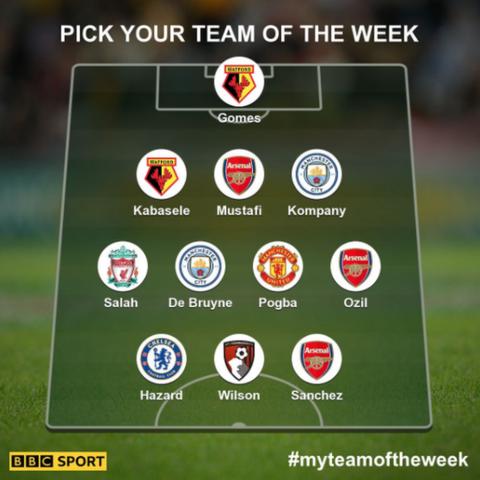 Manchester City's formidable unbeaten run continued with a 2-0 win over Leicester City which protected their eight-point lead at the top of the table.
But Jose Mourinho's Manchester United maintained the pressure by beating Newcastle 4-1, while Arsenal won their first north London league derby against Spurs since 2014.
A Mohamed Salah-inspired Liverpool beat Southampton 3-0 and Everton came from behind to draw with Crystal Palace as caretaker boss David Unsworth's prospects of getting the job permanently remain uncertain.
Chelsea beat West Brom 4-0 to crank up the pressure on Tony Pulis, Burnley beat Swansea 2-0 and Bournemouth were ruthless in their 4-0 triumph over Huddersfield.
You can see who made my team of the week below but, first, have a go at picking your own.
You can pick your own team of the week from the shortlist selected by BBC Sport journalists and share it with your friends.
Pick your Team of the Week
Pick your XI from our list and share with your friends.
If you can't see the selector, please use this link to pick your XI.
Goalkeeper - Heurelho Gomes (Watford)
Goalkeepers are there to save matches and, when they do it, it is the best feeling in the world.
Heurelho Gomes did just that and was absolutely brilliant against West Ham. The double save he made from Marko Arnautovic was out of this world.
His first came from a point-blank header from the Austria international, who seized on the rebound and thundered the ball back towards Gomes.
Watford are enjoying their best start to a Premier League season under Marco Silva and that has created tremendous interest in the manager's ability to take ordinary teams and make them considerably better.
I said only a few weeks ago, in this very column, that Everton should move very quickly to secure the services of this exciting manager and, to their credit, they have.
If Silva goes to Everton - and I think he must - Watford can do much worse than replace him with Alan Pardew, who has a lot to offer.
Defender - Christian Kabasele (Watford)
I have seen some amazing goal-line clearances this week but none more important or impressive than the one from Christian Kabasele.
West Ham were having great difficulty trying to find a rhythm and struggling to convert their chances when Manuel Lanzini's cracking strike beat Heurelho Gomes, only to see Kabasele come from nowhere and somehow clear the ball off the line.
The player's defensive instinct was quite remarkable. It was the sort of clearance that rips the heart out of the opposition, especially when a team like West Ham, who are low on confidence and trying their best to get something out of the game, see the lengths the home side are prepared to go to in order to keep a clean sheet.
As for the Hammers, manager David Moyes has accepted a job that - should it go badly wrong and the club are relegated in the same way Sunderland were under his tenure - could be his last.
West Ham are a very famous old club and belong in the Premier League. Nothing short of that will be acceptable.
Defender - Shkodran Mustafi (Arsenal)
North London supremacy and comments about which player would get into whose team are conversations that belong over a pint in the Dog & Duck.
The real debate is about teams who have what it takes to win football matches regardless of the stakes.
Shkodran Mustafi would almost certainly not get into Tottenham's back three. But what does it matter when you can produce performances that are so defensively brilliant? At times you wonder how on earth the German can be so utterly disastrous on other occasions.
The answer is: that's football.
In reality, no-one knows how any individual is going to perform on any given day, and that is why fans are so gratified when players turn up for a big match and give them what they want.
Should referee Mike Dean have given a free-kick for Davinson Sanchez's tackle on Alexis Sanchez? Probably not.
Was Mustafi offside when he superbly directed his header towards Tottenham's goal? According to the video evidence, it was.
These were all incidents beyond the control of the visiting side. However, what Spurs were in total command of was the way in which they lined up to defend the free-kick and which defender was going to get his head on the ball.
The fact that they failed in both departments completely cancels out anything Dean did moments before.
Of course, Spurs have every right to be angry about poor decisions by the officials, especially when it costs them a goal, but it cannot be the referee or his assistants' fault if Tottenham cannot defend a set-piece.
As for Mustafi, he was the best defender on the pitch by a mile.
Defender - Vincent Kompany (Manchester City)
What is the game coming to when a manager, or a team for that matter, begin to rely on a sending-off to ensure a victory?
That seemed to be the situation, as far as Leicester and their manager Claude Puel were concerned, when Vincent Kompany clearly brought down Jamie Vardy during the game's opening exchanges.
The tackle itself was not the issue, but whether the City captain was the last man or not.
Some are in no doubt that Kompany should have been dismissed, but I take a different view. John Stones, the nearest City defender to Vardy, was close enough and quick enough to make a difference and referee Graham Scott thought so too.
Would the game have been affected by Kompany's departure? Of course it would, but the whole point of a sending-off is that it is used to administer justice.
It is also the opinion of the referee that counts - not the managers' or players' - and certainly not the opinion of the pundits.
There are moments, I must admit, when a referee is the only person in the ground who knows why a player has been sent off and that is equally nauseating.
We should all be in no doubt why justice has been served. Nevertheless, Kompany survived the incident and the match.
Kompany is a wonderful professional. However, the Belgium international will know he must prove he can play a full and uninterrupted season in the hurly burly of the Premier League before manager Pep Guardiola can trust him to lead this marvellous City side into the future.
Midfielder - Kevin de Bruyne (Manchester City)
If I had to announce my player of the season now instead of in May, it would go to Kevin de Bruyne in a heartbeat. I do not think a single soul would disagree.
Martin Keown expressed it perfectly when he said on Final Score that De Bruyne is "a wonderful artist painting beautiful strokes for others to reap the benefits and enjoy".
That summed it up for me. What we are seeing from Manchester City, and De Bruyne in particular, is art.
Pele, the greatest player that ever lived, described football as the "beautiful game".
British football has always been about passion and commitment, but what we are witnessing with City is what can be only described as extraordinary beauty.
Against Leicester, apart from a brief moment or two, City were always in control. Could we ever have a team of Englishmen playing for the national team in this fashion with such complete belief in themselves?
Is there a De Bruyne in any of our young England teams that won the Under-20 and Under-17 World Cups recently? If there is, we need a system that allows these delicate flowers to blossom.
De Bruyne took some time to mature into the player he is today. What he has at his disposal is a manager who can make him the best player in the world.
Midfielder - Paul Pogba (Manchester United)
I have no time for his hairstyles and even less time for the dancing exhibitions. They are for beauty parlours and catwalks.
What I do enjoy, though, is a footballer who can produce moments of magic with a football at his feet.
There is no doubt that Paul Pogba's return to the Manchester United line-up was as empathic against Newcastle as it was stylish, and so it should be.
Newcastle simply do not have the resources to compete with Manchester United. But you can only beat what is in front of you and Pobga tormented Newcastle throughout.
I would like to see the Frenchman have this sort of performance against the top teams, but there is no doubt that, given time and room, Pogba can destroy the opposition.
I had little choice but to pick Pogba over Jack Cork for example. Cork was outstanding for Burnley against Swansea but Pogba is in a different class. Yet there was something quite virtuous about Cork's performance I did not see in Pogba's against the Magpies.
Nevertheless, it would have been vindictive of me not to pick Pogba. I refuse to allow a poor rendition of John Travolta in Saturday Night Fever with a poor haircut to stop me from producing an honest selection, but I do so through gritted teeth.
Midfielder - Mesut Ozil (Arsenal)
I did not hear anyone from the Arsenal camp complaining about Mesut Ozil's performance against Tottenham in the north London derby - no comments about him being lazy or not being a team player, playing for himself or not being interested.
What I did see was Arsenal fans giving the player a standing ovation in appreciation of a wonderful performance by an extremely gifted footballer - and about time.
I have said it before and I will say it again: Ozil should be playing for Tottenham, where he would be far more appreciated. Spurs fans would be giving him that ovation every week.
I suppose there is no getting away from history.
It is only in recent times that Arsenal, under the watchful eye of Arsene Wenger, have shed their 'boring' tag.
Former Arsenal manager George Graham's sides won trophies but played the game so villainously that I was always amazed that they were not charged under the Trade Descriptions Act for misleading consumers that they were really watching football at all.
You have to go back to the days of former Arsenal greats like Alan Ball, Charlie George and Liam Brady to see a glimpse of real genius wearing the famous cannon on their chest. But not any more.
Wenger has not only been turning pigs ears into silk purses since his arrival, but has consistently attracted wonderful footballers like Ozil and Alexis Sanchez to the club.
Considering some of the complaints I have heard in recent years about Wenger and Ozil from Arsenal fans, I am not entirely sure they deserve either of them.
Midfielder - Mohamed Salah (Liverpool)
This player is on fire at the moment. Mohamed Salah has now scored nine goals in his first 12 Premier League games.
I knew he could play but I had no idea he was so accomplished in front of goal. His finishing for someone who is not regarded as a natural goalscorer is quite phenomenal.
His first goal was sensational and came from a corner that he took himself, having ghosted back into the playing area before unleashing the most glorious strike.
His second, a move created by Philippe Coutinho, was an entirely different finish and quite deft in comparison.
With Sadio Mane, Roberto Firmino, Coutinho and Salah playing like this, and all at the same time, Liverpool have the attacking qualities capable of scaring the living daylights out of any team. What a pity they do not have a defence to match. Can someone explain that to me?
Forward - Eden Hazard (Chelsea)
Eden Hazard was electric throughout this encounter.
I never saw Hazard as a second striker but that is the way he is playing at the moment. I do not think he has ever looked so dangerous.
He is certainly looking extremely effective alongside Alvaro Morata. I saw the beginnings of this partnership against Manchester United at Stamford Bridge recently but did not make too much of it as I thought it just happened by stealth.
However, having seen it again against West Brom, I am beginning to take the view that both players are looking for each other quite openly.
I have already remarked this season about the impact on Chelsea losing a player like Diego Costa.
However, manager Antonio Conte may have been forced to find a new system to accommodate Morata and found two strikers at the expense of one. It looks like it is working.
Forward - Callum Wilson (Bournemouth)
It simply would not be right if you scored a Premier League hat-trick and not be selected for my team of the week.
I am delighted for any player who scores three goals in any league but more so when that player has spent months out through injury.
Only those who have been through the difficulty and the relentless torture of rehabilitation know how lonely and difficult it is when a player acquires a long-term injury. Only the euphoria on your return can replace that agony.
Huddersfield should have been two goals up before Bournemouth had time to cough, but failed to convert two glorious chances.
The Cherries, on the other hand, could have had two men sent off but only captain Simon Francis actually walked.
The home side desperately needed these three points after a very uncertain start to the season, and that puts manager Eddie Howe in a much more comfortable position than when he was in the relegation zone only a few weeks ago.
Forward - Alexis Sanchez (Arsenal)
I have seen Arsenal in this mood before - Alexis Sanchez fighting for every ball, Mesut Ozil playing with desire and purpose and Shkodran Mustafi marking Harry Kane so tightly the striker could barely breath.
What I did not understand was why Spurs took so long to recognise that this was an Arsenal side intent on humiliating their north London rivals, especially after the overstated self-aggrandisement of their Real Madrid victory.
So why did Spurs start this match as though they were playing MK Dons on a Tuesday night in Milton Keynes? And why did Mauricio Pochettino let them?
Tottenham started the game as though their very presence was enough to earn them a point, while Arsenal played as though their lives depended on it.
The charge was led by Sanchez, of course. Who else in the Arsenal team was capable of tormenting Jan Vertonghen, Davinson Sanchez and Eric Dier all at the same time?
The Chile forward was once again outstanding, led from the front and showed the sort of leadership qualities only world-class players possess in games that mean far more than just points.