Mohamed Salah: Egypt striker carries hopes of a nation at World Cup
By Mohamed Qoutb
BBC Arabic
Last updated on .From the section African
As he lined up to take the pressure-laden 95th-minute penalty that could take Egypt to their first World Cup since 1990, Mohamed Salah knew that life was about to change.
What followed was surely far more than he ever expected.
As he slammed home to seal a 2-1 win over Congo in October, the 25-year-old was propelled from football star to national hero.
Large photos of Salah headlined every newspaper in a country with a population of 80 million, his hometown school was renamed after him, and there were discounts in some Egyptian restaurants for anyone sharing his name.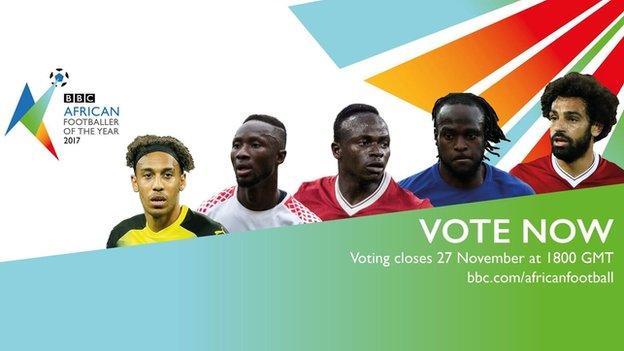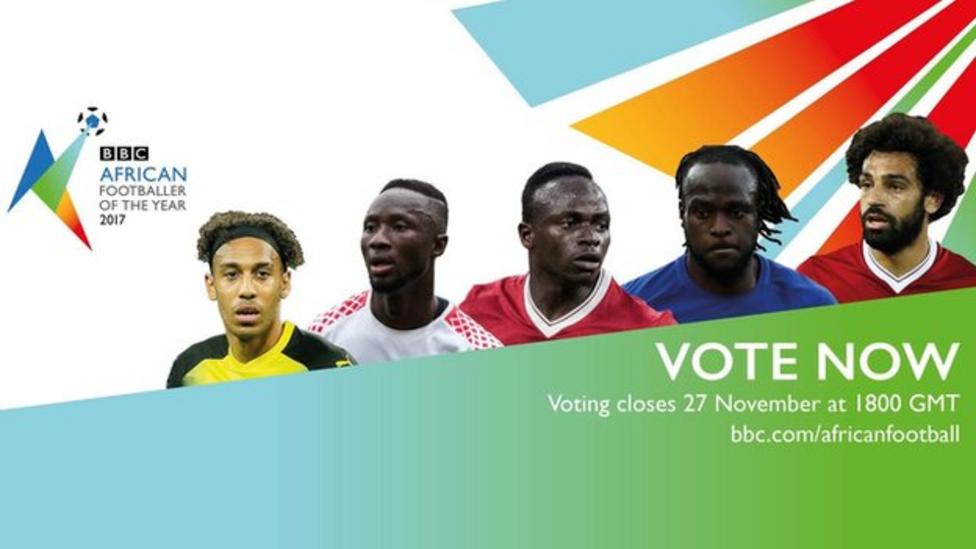 Born in 1992, the Liverpool forward has never even seen Egypt play at a World Cup, but he has changed that - almost single-handedly.
"Salah is the man behind our qualification to the World Cup," Hazem Emam, who won the 1998 Nations Cup and 87 caps for Egypt, tells BBC Sport.
"When we qualified in 1990, it was more of a team effort. This time, Salah was the leader of the whole campaign."
Salah had a hand in all seven of the goals that took the Pharaohs to Russia, scoring five and assisting two, as Egypt finally ended one of African football's biggest mysteries.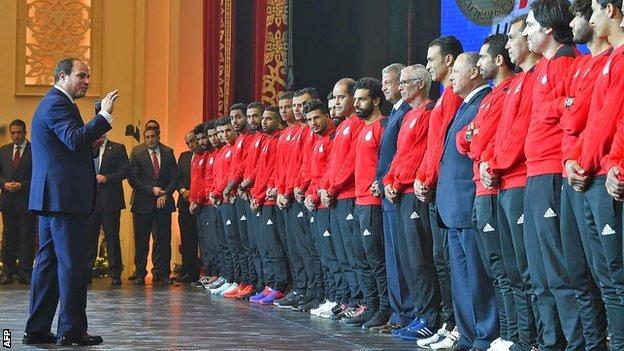 How could a team that dominates Africa and boasts a record seven continental titles consistently fail to qualify for the World Cup?
The irony was that the puzzle was solved in the wake of Egypt's 2011 political revolution, which turned the years of plenty - three Africa Cup of Nations titles between 2006 and 2010, to ones of famine - no qualifications from 2012 to 2015.
But the pendulum swung back earlier this year as Salah had a hand in four of the five goals that helped Egypt finish runners-up in the Nations Cup.
Under Argentine coach Hector Cuper, who is known for his strict defensive approach, Salah has become Egypt's primary goalscoring option, to the extent that fans have dubbed Egypt the 'Pass to Salah' team.
Emam says Salah's exploits for Egypt and at the highest level in Europe make him his nation's greatest ever player - above legendary figures as Hossam Hassan, Mohamed Aboutreika and Mahmoud El Khatib.
"Nobody in the history of Egypt has reached such a level in world football and been so successful with the national team," said Emam.
Salah is revered by all Egyptians, no mean feat given the country's support tends to be dictated by which of the two local giants a player represents - Al Ahly or Zamalek.
Hailing from the small town of Basyoun, more than 100km from Cairo, Salah had limited chance to join either of Africa's two most successful clubs and instead signed for Arab Contractors at 18, making his debut in 2010.
"When I first worked with him, I told him that his ambition should have no limit because he had such great pace and, more importantly, he was highly committed to developing his abilities," former Egypt Under-20 coach Diaa El-Sayed tells BBC Sport.
"He listened carefully to instructions and has dedicated his whole life off the pitch to becoming a world-class footballer."
But just when Salah was rising and alerting the country's top clubs to his talents, tragedy struck.
In February 2012, 74 Al Ahly fans were killed in Port Said after being attacked by supporters of rivals Al Masry, leading to a suspension of all domestic football in Egypt.
Two months later, Salah joined Basel in Switzerland, where he attracted the attention of Egyptians missing local football. His lack of allegiance to Al Ahly and Zamalek made him a unifying symbol.
The country was excited when Chelsea bought the improving Salah two years later, yet he was largely overlooked by manager Jose Mourinho despite his pace and ability to get in behind defences.
"The key to Mohamed's success in Europe is that he always knew when to take the right step," says former Egypt international El Sayed. "It didn't take him too long to decide that leaving Chelsea was important for his development."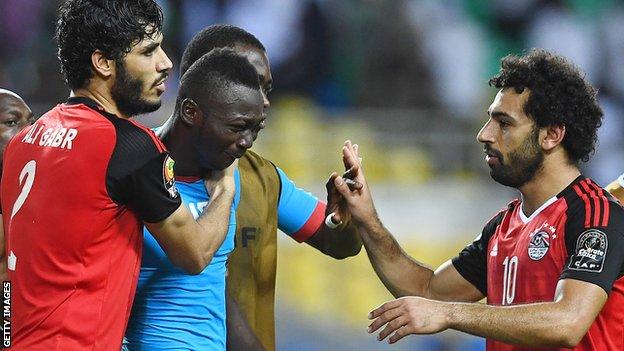 A loan move to Fiorentina followed, whereupon Salah further endeared himself to Egypt's footballing fraternity as he asked to wear a number 74 shirt in tribute to the Al Ahly fans.
"Moving to Italy was the most important decision in Salah's career," says Emam, the first Egyptian to play in Italy.
"Tactical awareness is the priority in Italy and he was keen to learn how to cope with the complicated style of play. He didn't spend much time at Fiorentina but it was a brilliant start that made him comfortable when he joined Roma."
Salah shone in his two seasons in the Italian capital - he was named Player of the Year in 2015-16 and scored 15 goals and made 11 as Roma finished second behind Juventus last season - before joining Liverpool in June this year.
El-Sayed says: "I remember him celebrating a goal (in February 2015) for Fiorentina against Tottenham in an unusual way and when I asked about it, he said: 'I was happy that I proved a point against a Premier League side.'
"The same reason made him decide to join Liverpool this year."
Salah has made light of his hefty price tag at Liverpool, where he has made a flying start, scoring nine goals in his first 12 league games.
In Russia next year, the diminutive Salah, who boasts 32 goals from 56 internationals, will have to shoulder even vaster expectations.
"Everyone will be talking about Salah's side, not Egypt, which will be quite a pressure," says Emam. "But if he is the same form then as he is now, he can lead Egypt to the second round for the first time."
One thing is for certain: the whole country will be behind him, especially the millions of young Egyptians who - like Salah himself - have never heard their national anthem ring out at football's greatest event.