Swansea City Supporters Trust chairman Phil Sumbler resigns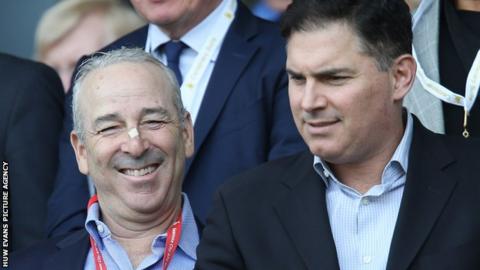 Phil Sumbler has resigned as Swansea City Supporters Trust chairman after more than 11 years while Matt Griffiths has also resigned from the Trust board.
Sumbler said: "The direction the board is taking is different to the direction in which I would like to lead it.
"Therefore it has become necessary for me to formally offer my resignation."
The Trust is in discussions with the club's American owners, Steve Kaplan and Jason Levien, and chairman Huw Jenkins regarding a sale of shares.
Under the proposal, Kaplan, Levien and Jenkins would gradually buy part of the shares owned by the Trust, which owns 21.1% of Swansea City. The Trust could sell up to half of the shares it owns.
Sumbler added: "Some of the detail provided has placed me in a position where it is not a deal that I - as a Trust member - am comfortable with and it is my personal belief that it placed the Trust in a position where the working relationship with the majority owners had broken down."
A statement from the Trust said: "He [Sumbler] has been a tremendous driving force... and we will always be grateful to him."