Sackings 'severely damaging' English football, says League Managers' Association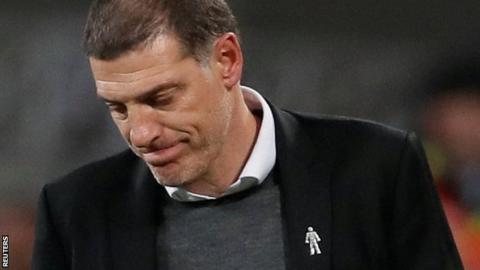 A culture of sacking managers is "severely damaging" English football, says League Managers' Association chief executive Richard Bevan.
Premier League and Football League clubs have employed an average of 12 managers between October 1997 and 1 November 2017, a new study has found.
"Consistently dismissing managers can create an environment of instability within the club," said Bevan.
"It causes a series of negative consequences."
Does stability bring results?
A "success index" put together by Press Association Sport suggests a link between managerial stability and the success a club achieves.
Looking at the period between the 1997-98 season and the end of last year's campaign, one point is given to a club for a trophy or a promotion and one is subtracted for a relegation.
The study put Manchester United at the top of the success index, with Fleetwood and Burton Albion also in the top 10.
In addition, the study found the 10 clubs with the fewest managers combined for an index score of 38, while the 13 teams with the most managers (three teams share tenth place with 16 managers each) scored just four.
Bevan says this casts doubt on the idea that managerial change improves results.
"While it is often well publicised when an under-performing side regain form under new management, this is rarely sustained over long periods and quite often results revert to type within a few games," he said.
It may not be clear, however, that sticking with the man in charge is always the best course of action for a club.
While the 10 teams who employed the least managers amassed a combined total of 38 index points, exactly half were provided by Manchester United and Sir Alex Ferguson
Arsene Wenger's Arsenal contribute 10 further points, but only four of those have come since 2004; in the same period, Chelsea attained 16 points having employed 10 different managers (including Guus Hiddink and Rafael Benitez, who won the FA Cup in 2009 and the Europa League in 2013 respectively while in charge on an interim basis)
Swansea are in eighth place on the success index despite having employed 17 managers
Impact on families
What is clear is that being a football manager is not a stable career - and only 10 of the 92 teams in the Premier League and Football League have had the same manager in place for four years or more.
"The impact on managers, coaches and their families cannot be underestimated," said Bevan.
"These individuals are dedicated to football and treating the talent within our game in such a disposable way will have longer-term consequences, including making the profession less attractive."
Bevan suggests that the problem is rooted in a short-term approach, and advocates changes to the process by which clubs recruit managers.
"The game must engage with majority shareholders more regularly," he said.
"The LMA encourages the game to implement comprehensive recruitment processes, which will ensure appointments are the best fit for both club and incoming manager.
"It is also important for managers and their employers to agree on short, medium and long-term goals which are realistically attainable."
One door closes, another opens
The study found four managers have taken charge of eight clubs in the 20 years, with Steve Cotterill joining the list after his appointment at Birmingham in September.
The Blues have also employed another of the quartet in Steve Bruce, who along with Peter Taylor counts both Hull and Crystal Palace among his eight teams. Neil Warnock has managed Palace on two separate occasions along with seven others.
The Eagles' 21 managers in the study period also include three managers who have taken charge of seven clubs apiece - Sam Allardyce, Ian Holloway and Tony Pulis.
Sheffield United have employed two of the remaining three - Micky Adams and Danny Wilson - as well as Bruce and Warnock, while the top 10 is completed by Martin Allen, who fitted in six other clubs alongside three spells at Barnet.
Longest-serving managers
*As of 1 November, 2017
Arsene Wenger (Arsenal) 20 years, 2 months, 1 day
Paul Tisdale (Exeter) 11 years, 4 months, 6 days
Jim Bentley (Morecambe) 6 years, 5 months, 19 days
Neal Ardley (Wimbledon) 5 years, 22 days
Eddie Howe (Bournemouth) 5 years, 20 days
Sean Dyche (Burnley) 5 years, 2 days
Mick McCarthy (Ipswich) 5 years, 1 day
Gareth Ainsworth (Wycombe) 4 years, 11 months, 24 days
Keith Hill (Rochdale) 4 years, 9 months, 9 days
Mark Hughes (Stoke) 4 years, 5 months, 2 days
Shortest stints
Billy McKinlay, Watford, 29 September-7 October, 2014, 9 days
Dave Cowling, Doncaster, 19-29 October, 1997, 11 days
Micky Adams, Swansea, 9-22 October, 1997, 14 days
Oscar Garcia, Watford, 2-29 September, 2014, 28 days
Paul Hart, QPR, 17 December, 2009-15 January, 2010, 30 days
All bar McKinlay resigned from their roles. Garcia's resignation was due to ill health.