Man City sign £10m-plus deal with Amazon Prime for behind-the-scenes TV series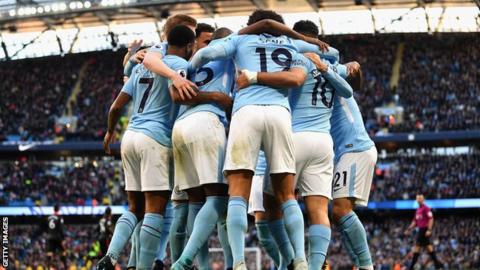 Manchester City have signed a deal with Amazon Prime worth more than £10m for a behind-the-scenes TV series following the club through the 2017-18 season.
The Premier League has agreed to the series, likely to appear on Prime's on-demand video service in autumn 2018.
Its announcement comes a day after City posted financial figures showing a 21% increase in turnover to a record £473m.
"Amazon Prime Video is the perfect home for a ground-breaking project," said City chief executive Ferran Soriano.
"It will offer a unique and authentic inside view into Manchester City's season."
Amazon Prime Video is an internet on-demand service which offers television shows and films to rent or buy as part of a user's subscription.
The company, which does not disclose subscriber numbers or sales for its streaming service, recently signed deals with the NFL and ATP World Tour to stream live sport.
Manchester United chief Ed Woodward said in September he expects Facebook and Amazon to "enter the mix" when the next Premier League TV rights deal is negotiated later this year.