Checkatrade Trophy: Leeds United fan spends birthday at Grimsby v Sunderland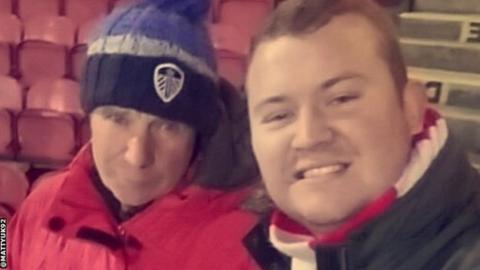 It's fair to say Leeds United fan Steve Thompson won't forget his 65th birthday in a hurry.
What better way to celebrate reaching the national retirement age than discounted £5 entry to Grimsby Town against Sunderland Under-21s in the EFL Trophy on a chilly Wednesday night?
Thompson and grandson Matty Jewitt - who is actually a Sunderland fan thanks to his dad's loyalties - were part of a seven-strong away contingent at Blundell Park as the Wearsiders squeaked by the Mariners on penalties.
"It's the sort of bond we have," Jewitt told BBC Sport. "He's Leeds, I'm Sunderland, but we go to watch each other's games.
"I said to him 'Do you fancy a trip to Grimsby on a Wednesday night?' I knew he would. We ended up with a pie and a pint in the players' lounge."
'They didn't even come over after'
Jewitt, who is a season ticket holder in the South Stand at the Stadium of Light, has been as far and wide as the United States and Germany watching his team.
However, even this was a new one for him, an "old school" stadium and a miniscule crowd of just 248.
"When the players ended their warm-up I shouted 'Come on lads, we've come all this way so give us a win'," said Jewitt.
"However, the players didn't even come over at the end, I didn't get a shirt or anything. We didn't get back until about 2am."
I can say: 'I was there...'
In the world of one-upmanship that is being a die-hard football supporter, being able to say "I was there" that night is possibly the ultimate trump card.
Sunderland are unlikely to be printing T-shirts commemorating the moment, but Jewitt will always have the memories of that cold November evening in Cleethorpes.
"There was us and five other people in the stand, it was a strange football game," he told BBC Newcastle.
"Sunderland fans were given a huge stand, and we were scattered everywhere. There wasn't very much conversation.
"I started a chant, and a steward clapped along with me. The stewards were fantastic."
Escaping the hordes
Crowds at the old Wimbledon FC were really struggling toward the end of their existence as disillusioned fans flocked to the newly formed AFC Wimbledon. The lowest Premier League crowd in history was the 3,039 gathering for visit of Everton in January 1993.
Perhaps the nadir for the old Dons was when the visit of Rotherham in October 2002 brought a home attendance of 849 in the old Division One. 227 were from Rotherham.
The lowest attendance at a World Cup saw just 300 people watch Romania v Peru in 1930. To be fair, it was the inaugural tournament taking place in Uruguay, so there are mitigating circumstances.