Raheem Sterling: Pep Guardiola praises him but has Man City forward improved?
Last updated on .From the section Football293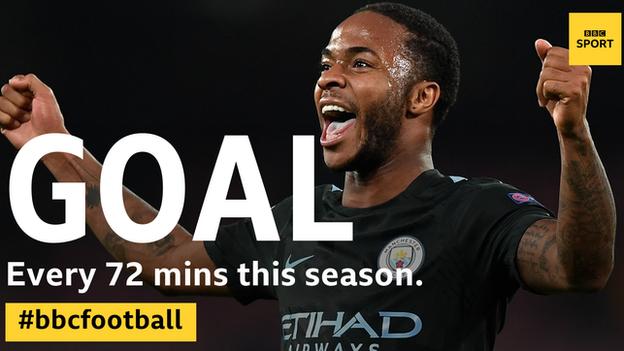 Pep Guardiola has praised Raheem Sterling's desire to improve his goal return and warned forwards will only "survive" by finding the net regularly.
Sterling, 22, has 10 goals in all competitions this season, double his return at the same stage in 2016-17.
Guardiola says the forward has spent "many, many hours" working on finishing with first-team coach Mikel Arteta.
"He knows a striker has to score goals and he has to do that if he wants to achieve the next step," said Guardiola.
"You won't survive in the high level teams in his position if you don't score goals. And now he's seeing how fun, how good it is, to score goals. I think he's enjoying scoring goals, he's not scared, he's not afraid to take a risk."
Guardiola's side have 35 goals in 10 league games, 12 more than second-placed Manchester United, who they lead by five points. City face Arsenal at home on Sunday at 14:15 GMT.
Spaniard Guardiola still believes Sterling must improve his final ball but what do the stats say about his season so far?
There were hints Sterling was peripheral to Guardiola's plans earlier this year when he was a reported makeweight in a deal to bring Arsenal's Alexis Sanchez to the Etihad Stadium.
It has been some turnaround as the former Liverpool man already has seven league goals - as many as he has hit in a season at the club before.
Sterling's current rate of scoring - 1.25 goals per 90 minutes - far eclipses figures of 0.25 goals-per-game last season and 0.28 in 2015-16.
In his eight league games so far this season, Sterling has averaged just over 63 minutes on the pitch. If that average is maintained and he keeps up his scoring ratio, he would end the season with 32 league goals, breaking by one the 38-game season record held by Alan Shearer, Luis Suarez and Cristiano Ronaldo.
Guardiola told reporters on Friday that Sterling now had a greater focus on finding the net.
The former Barcelona and Bayern Munich manager said: "Mikel Arteta is working many, many hours and days after training specifically about the last action on the pitch - that control in the last moment to make the right movement in the final three or four metres.
"For himself, Raheem has wanted to stay there, to improve, to practise, to shoot at the goalkeepers. It's part of the mentality he needs."
And the hard work on finding goalscoring positions appears to be paying off. Sterling has already had 18 shots inside the penalty area this season, compared to 43 across 33 league games last season.
He may not have the build of a target man but he's getting right there in the mixer.
Despite his fine return, Sterling has actually been less accurate with his shooting this season, finding the target 47% of the time compared to 52% last season and 61% in 2015-16.
But Guardiola's eye for improvement has honed in on another aspect of Sterling's role in a City side which sits five points clear at the top of the Premier League.
"His final pass still has to improve - he has to do it better, he has got better but he can still do better," said Guardiola. "Sometimes it's not possible but the big, big players decide well in those moments but we can't forget he's 22 years old."
Guardiola said Sterling is "curious" when pointing to his appetite to learn but perhaps the demand for further development is tough love as Sterling's figures for assists, chances created and successful crosses are improving this season.
Sterling's rate of finding the net every 72 minutes leaves big names such as Tottenham's Dele Alli and Liverpool's Philippe Coutinho trailing by some margin.
With two assists to his name this season, he also betters both men, though Manchester United's Marcus Rashford can boast three.
But it is in comparing the number of chances Sterling has created to other high-end attacking options that we perhaps see what Guardiola is getting at in encouraging his man to improve his final ball.
While the dozen chances Sterling has laid on is impressive, Alli has created 19 openings whilst Coutinho has mustered 16 in just five league appearances, a rate of 3.2 per game.