World Cup: New Zealand players facing a 24,000-mile journey for Peru tie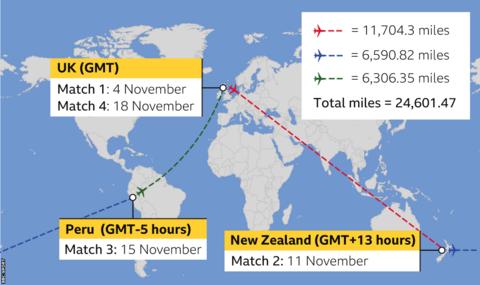 Four games, two weeks, three continents, 24,000 miles, three time zones, long-haul flights and the dreaded jet lag.
Seven British-based New Zealand internationals are currently embarked on an around-the-world odyssey to help their country reach next year's World Cup as they meet Peru in the South America/Oceania play-off.
Sandwiched between games for their clubs, they played out a goalless draw in the first leg in New Zealand on Saturday, and now head off for the second leg in South America on Wednesday.
The schedule for the All Whites is so hectic that Fifa extended the international break to accommodate the turnaround between matches.
Take Burnley striker Chris Wood and West Ham defender Winston Reid. Both played for their clubs on Saturday, 4 November and arrived in New Zealand on Monday. They could be back in Premier League action just three days after the second leg in Peru.
Jet lag will be one of the biggest challenges, with the New Zealand capital Wellington 13 hours ahead of the UK and Lima, Peru's capital city, five hours behind.
Former Australia striker Scott McDonald knows the difficulties only too well, and tells BBC Sport his tale of sleeping pills, 3am coffees and returning from Japan the day before an Old Firm derby.
"Players will say they are fine, but in reality I was a bit zombiefied," says the former Celtic player.
McDonald's former international team-mate and ex-Premier League goalkeeper Mark Schwarzer is another who drew the "zombie" comparison and says he would fall asleep at any given opportunity.
And they have been backed by travel health expert Dr Michael Townend, who warns players crossing multiple time zones are likely to be "less physically and mentally sharp".
UK-based All Whites in squad to face Peru
Max Crocombe (Salford City), Winston Reid (West Ham), Tommy Smith (Ipswich Town), Clayton Lewis (Scunthorpe United), Rory Fallon (Dorchester Town), Monty Patterson (Ipswich Town), Chris Wood (Burnley)
Sleeping pills & 3am coffees
Townend, the former chair of the British Global and Travel Health Association, recommends travellers should adjust to "local hours of light and darkness" as quickly as possible to help readjust the body clock.
But that was not the tactic that Dundee United's McDonald used. He says doing that "messes your whole body" given how short a period of time they are in any given time zone.
Instead, he would take sleeping pills on the plane, reasoning that business class flights made rest and recovery relatively straightforward. That strategy was not without complications, though.
"On international duty, the communal room would have half the team in at two or three in the morning watching telly and having a coffee, having given up on sleep," said McDonald, who earned 26 caps.
Sometimes, though, the trip is hardly worth the trouble. McDonald recalls one midweek jaunt to Japan in which he was an unused substitute, only returning to Scotland the day before a Old Firm derby.
"I had gone all that way and did not play a minute, then I had to play in the most important game of the season," he said.
"We drew 0-0 and I missed a header from six yards. I put that down to all that travelling in a short space of time because my energy levels were not what they were."
'You couldn't lie down as you'd fall asleep instantly'
Schwarzer also found the long plane journeys relatively relaxing, pulling on his travel tights and settling down for some rest.
His tactic was to plan out where he would be, what he would be doing, and when, so he could adapt his activities accordingly.
"I was never one to take sleeping tablets," said the ex-Fulham, Middlesbrough, Leicester and Chelsea goalkeeper. "Sleeping is one of my superpowers.
"It was about being prepared to be at least compos mentis to do what you had to do. You couldn't take two or three days to get ready. It was about being ready from the minute you landed on the ground."
Sometimes, though, that was easier said than done.
"I would be walking around like a zombie sometimes," Schwarzer says. "You could not lie down as you would fall asleep instantly. I'd get on the bus and would fall asleep from the hotel to the training ground.
"Sometimes you would get to a game and not feel 100%, but that is when the mental side came into it. Tell yourself to be positive, to concentrate and focus."
The science bit
Townend says it can take takes at least 48 hours and sometimes "up to five days" to adjust fully to a new time zone.
He argues that, as well as sleep disturbance, the daily rhythms of hormone production such as cortisol and melatonin are affected.
"That means both physical and mental functions work less effectively," said Townend. "That results in fatigue, difficulty sleeping, anxiety, confusion, impaired concentration and increased irritability."
Furthermore, those effects are likely to be greater when travelling east rather than west, and exaggerated by the number of time zones crossed.
So while travelling back to New Zealand is bad enough for those British-based players, imagine how taxing it will be when the journey to Peru and then the return trip to UK is factored in too.