Celtic players not focused on breaking unbeaten run record - Chris Davies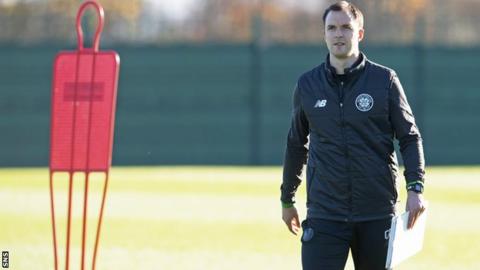 Celtic assistant manager Chris Davies says the players are ignoring the prospect of setting a new unbeaten domestic record against St Johnstone.
By avoiding defeat, the champions would overtake the 62-game mark set by Willie Maley's Celtic in 1917.
Davies says that the fact the record has stood for a century is a measure of the achievement's worth.
"We've never used it as a team talk. The record is not something we sit and worry about," Davies said.
"When you're doing it you don't think about it. It's just been a consequence of the great work for the players and the manager leading everyone forward."
Davies says that Celtic's unbeaten run has caught the attention of the football community in England.
The Scottish game is often dismissed across the border because of the historical dominance of the Old Firm, but Davies says that does not diminish the appreciation of Celtic's run.
"I do speak to people [down in England] and everybody recognises how difficult that is [to go 62 domestic games unbeaten]," the Celtic assistant manager said.
"Scottish football has been dominated by a few teams for a long time and the fact that this record stands and that we have equalled it is testament to how well we've done.
"It's a really, really difficult thing to do. Think of all the away games we've had to go to. We've had to go away to Ibrox a few times, Pittodrie; very difficult games no matter if you are the most dominant team in the league.
"Tough away games, cup finals, cup semi-finals, where all the pressure is on us. And the players have always delivered.
"We've always had the same mentality, to win the next game, to prepare for the next game. In this case, that would mean that we've beaten the record. It's something for the future that we can hopefully be proud of."
St Johnstone have not scored since late September, and have lost four of their last five matches. They are, though, the last side to beat Celtic in a domestic fixture and Davies is not taking the scale of the challenge lightly.
"They're a competitive team," he said. "I went to watch them on my way up to Aberdeen, [when] they played Ross County.
"It's fair to say they're not on the best run at the moment in terms of results, but that doesn't matter. Tommy [Wright] gets the team well organised, they compete well, they're aggressive and when we're coming to town we're the team that everyone wants to beat."