Price of Football 2017: What do results mean for fans, clubs & the sport?
Last updated on .From the section Football
The BBC's Price of Football study has found more than 80% of ticket prices in the Premier League have been either reduced or frozen for the 2017-18 season.
Average season ticket prices across English football's top flight are at their lowest levels since 2013, having fallen for the second consecutive year following a record £8.3bn global TV rights deal signed last season.
In a separate poll, we asked 1,000 18 to 24-year-old fans living in Britain how they engage with football and four in five (82%) said the cost of tickets was an obstacle to them going to more matches.
Here we ask the experts to explain what the results mean for fans, clubs and the future of the sport.
What will fans make of the results?
Phil McNulty, chief football writer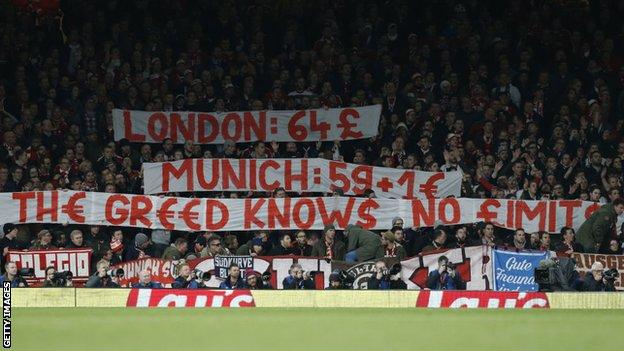 With every year that passes, football fans are becoming increasingly aware of the vast swathes of cash coming into football though television money and sponsorship deals, especially where I cover games in the Premier League. It is more of a topic of conversation among supporters than it has ever been before, with fans discussing rising transfer fees and wages paid to the elite players as part of their own demands for value for money.
The bottom line, certainly in the Premier League, is that stadiums are still full but I was present at a Champions League game between Arsenal and Bayern Munich in March when the visiting fans staged a well-organised protest at ticket prices they were paying to watch the match.
Bayern's fans unfurled a banner which read "Without Fans Football Is Not Worth A Penny" before throwing toilet rolls on to the pitch, causing the referee to hold up play while they were cleared. Arsenal's fans pointedly applauded the actions of their German counterparts.
So while Premier League games are still played in front of those packed crowds, there is no doubt ticket prices and the prices that go along with attending football matches are still high on the agenda and a topic of genuine interest for the match-going supporter.
Who wins - the clubs or the fans?
Natalie Pirks, BBC sports news correspondent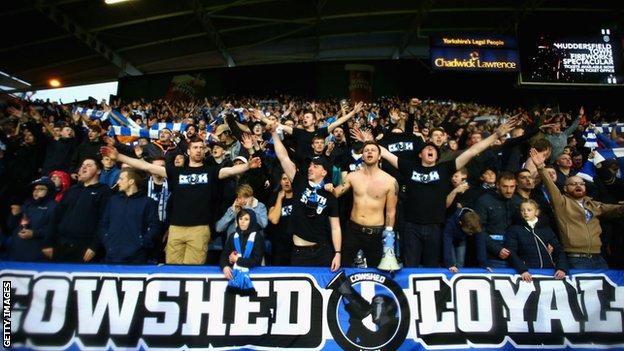 Back in 2015, Karren Brady told me that the top discussion on the agenda at every Premier League meeting she attended was ticket prices and how to ensure they engage younger fans. These are, after all, the season ticket holders of the future.
All clubs agreed last season to cap the cost of away tickets to £30, a move which is helping, and this year the majority of ticket prices have frozen or fallen for a third year. Yet the cost is STILL putting off young adult football fans. As footballers' wages skyrocket, with seemingly no limit in sight, football fans are experiencing static wages, a hangover from the economic issues felt during 2008.
Football clubs are trying to come up with greater ways to combat this. They know the fans are their lifeblood. Some clubs, like Stoke, run cheaper ticket schemes for under-21s. Everton, for example, say one in four of its season ticket holders is under 22. Yet, a worrying sign from our poll is that only one in four fans watch live football more than once a month.
Last season, Premier League chief executive Richard Scudamore said he believed online gaming was the biggest threat to the league going forward - and the BBC poll shows younger adults are far more likely to engage with the sport by playing it on a computer, than playing it for real. It's a far cheaper - and warmer - way of engaging with football.
Former England player Chris Waddle told me: "When I played, people used to say 'we pay your wages' but that doesn't happen anymore now with sponsorship. It is still an awful lot of money to watch 90 minutes of football."
Are we seeing a shift in the importance of matchday revenue?
Rob Wilson, Football Finance expert, Sheffield Hallam University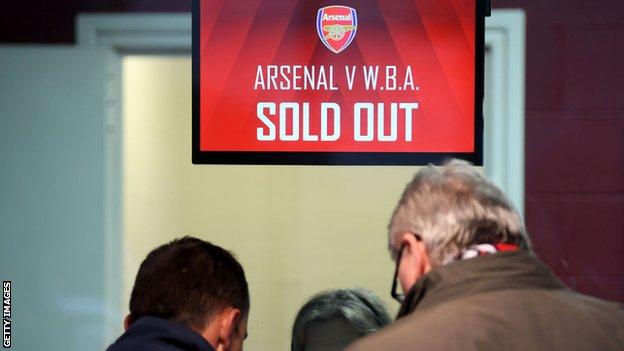 Over the past decade or so we have seen a gradual but definitive shift in how English Premier League (EPL) teams generate their revenue. Once dominated by matchday receipts, club revenues are now almost solely driven by broadcast income.
For many this makes up around 70% of their income over the course of a regular season. Add in revenues for those earning European broadcast income, it is of little surprise that we have seen a freezing of ticket prices (or a small reduction at some clubs).
There has, of course, been external pressure here, most notably from the Football Supporters Federation (although government has also thrown in its thoughts on the matter). My view is that clubs in the EPL should be making more significant cuts to their ticket prices as they are not reliant on such revenue. It's a utopian view, though, as even at the prices set today many grounds operate at, or about, full capacity for most matches.
I've said that EPL ticket prices should fall still further given the lower significance of matchday revenue. However, as we move down the league system it becomes much more important, with many teams outside the EPL being heavily reliant on it.
This makes for an interesting proposition where, theoretically, it should be much cheaper to watch a team in the EPL than it is in League Two. Teams lower down the system, of course, need to entice fans through the gate, hence the relative stabilising of prices there too.
What more can clubs do to help supporters?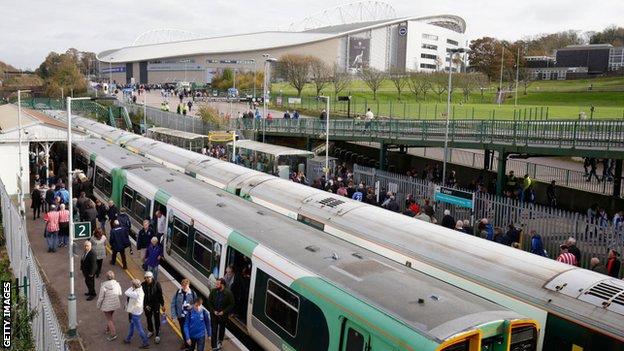 Rob Wilson, Football finance expert, Sheffield Hallam University
It's pleasing to see the modest ticket pricing for away fans and the 'special deals' that some clubs offer to fans living in close proximity to the ground - all could go further remembering that a local fan base is no longer those fans living down the road.
The EPL is a global game, consequently the local market could be extended beyond borders and overseas too. Travel remains a big consideration both in terms of cost but also time off work for mid-week trips. It all adds up and clubs need to be acutely aware of the pressure that fans feel under to support their team.
Football needs to be an attractive product and revenue is needed to buy playing talent which in turn, should, generate fan interest. The key challenge for all clubs is to make their proposition stronger than the alternatives - be that a trip to the cinema, a dinner out in town or a spree at the shopping centre.
The game is achieving that at the moment but the long-term impact of young fans feeling priced out is yet to be truly felt.
While replica kits are expensive, their costs haven't risen in line with substitute products so clubs will argue they are helping here - the manufacturers have a big sway in the setting of these prices however.
What about attracting more young adult fans?
Justin Madders, MP for Ellesmere Port and Neston
The amount of money that goes into football just from television rights is astronomical - they have the leg-room to make some concessions to younger fans and if they're looking at the long-term health of the sport they will realise they need to do more to attract young fans.
We need to have a very clear rule about discounted tickets for people under the age of 22 or possibly 24. It's really important that young people have the opportunity to go and watch their local team. Transport is a big issue and tickets can be very hard to come by.
If you look at the average age of season ticket holders, it's still in the 40s and that's my generation that grew up going to matches regularly and are still in the habit now. The next generation don't go regularly because they don't have access or can't afford to. Then when they get to our age, when we've all moved on and are not going anymore, that next wave of fans won't be there.
Dr Rachel Andrew, clinical psychologist
It is interesting that fans think they are valued but that clubs do not 'have them in mind'. What else would clubs do if they 'kept them in mind' - they might discount tickets and travel.
They might also have representatives in this age group on the board? Have interactive forums where this group feel listened to and influential? Have a specific supporters' forum/publication/stadium area for this age group?
Playing football and watching a football game in a ground are social and emotional experiences that differ from online gaming or betting. In an era where young people are increasingly anxious and low in mood, and can struggle to find a sense of belonging and identity, it is sad to think that football is not playing a more active role in engaging this age group. I think young people need to be listened to and football clubs could lead the way in this.
Malcolm Clarke, chairman of the Football Supporters' Federation
The FSF has long argued that 'young adults' feel priced out with those in the 18-23 range disproportionately in lower paid employment or education - yet they are often expected to pay full price. These are formative years and we want football clubs to do everything they can to retain supporters of that age - a relatively small ticket subsidy now could secure the club a match-going fan for life.
What other factors might affect a younger fan going to matches?
Kevin Rowles, economics expert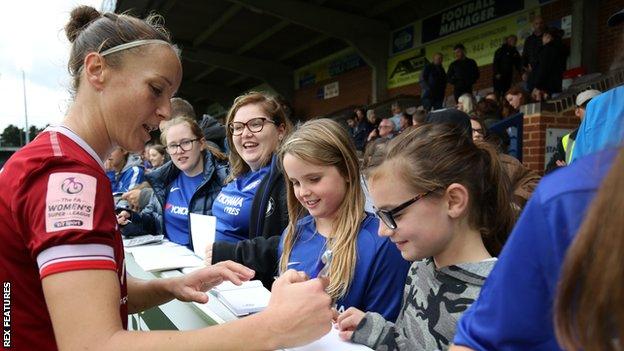 Football is what economists would call a 'normal good'. As incomes rise, demand for leisure activities increase. What we are seeing, especially with young people, is that incomes are being squeezed in real terms and this will lead to a decrease in demand, particularly as there are alternative leisure opportunities.
The number of fans attending football will also respond to rise and fall in prices because of the price elasticity of demand for tickets. Support for a team is often a matter of loyalty and hence lower prices may not attract many new fans.
If young people find that their finances are stretched, they may make a rational choice to follow a team by other means such as screened matches. An economist might observe that if a live match can be seen outside the stadium, the fan would only pay for the 'atmosphere' of 'being there' - how much is that likely to be even for the committed supporter?
Young people tend to be in work but with the very slow growth in wages in the last 10 years, their income is lagging behind living costs. Real wages are not rising and young people are also saddled with student debt which means if they are earning over £21,000, they are in effect paying another 9p in income tax on top of all their other tax charges.
Another huge issue is housing - whether you are buying or renting - housing costs have risen over the last 10 years. Rent and utility bills have to be paid and they are rising faster than other prices. Then, when you have to pay for food on top, it means things like sport and paying to watch football are not a priority.
Young people are more likely to be part of the so-called 'gig' economy, where employment conditions are worse and earnings are not reliable.