Anne Frank's diary to be read at Italian league matches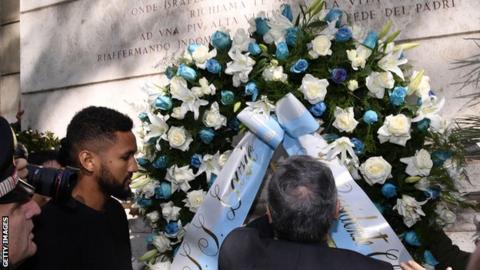 A passage of Anne Frank's diary will be read before all Italian matches this week after an anti-Semitic incident at Rome's Olympic Stadium on Sunday.
Lazio fans posted stickers of the Holocaust victim wearing a Roma jersey alongside anti-Semitic slogans.
Lazio, who share the stadium with Roma, will have images of Anne Frank's face on their shirts in Wednesday's game.
The club's president has also said he will organise an annual trip to Auschwitz for 200 of Lazio's fans.
A section of Lazio fans known as the "ultras" - known for their racist chants and often violent behaviour - left the stickers and slogans such as "Roma fans are Jews" during their match at the Olympic Stadium on Sunday.
Italian president Sergio Mattarella called the case "alarming" and Italian police have opened an investigation into the stickers.
Sports Minister Luca Lotti said those responsible would be "identified and punished", adding: "There is no justification. These are instances to be condemned unconditionally."
Lazio president Claudio Lotito said wearing images of Anne Frank's face on the Biancocelesti shirts when they play at Bologna on Wednesday night would demonstrate the club is committed to fighting all forms of racism and anti-Semitism.
He also said taking Lazio fans on an annual trip to Auschwitz would teach them about the Holocaust.
Anne Frank became one of the most famous Jewish victims of the Holocaust after her diary of her life as a German Jew in Nazi-occupied Amsterdam in World War Two was published in 1947.
She died at Bergen-Belsen concentration camp when she was 15-years-old.
"You can't play around with these facts, we condemn all forms of racism. Lazio will launch this initiative," Lotito told Italian newspaper Gazzetta dello Sport.
He also visited a synagogue in Rome following the incident, and was quoted by Italian newspaper La Republica as saying: "I am here to express our total dissociation towards all xenophobia, racism, anti-Semitism."
The Italian Football Federation announced that sections of the diary will be read out in the centre circle before all midweek Serie A, B and C matches, as well as amateur and youth matches at the weekend.
The section will read: "I see the world being slowly transformed into a wilderness, I hear the approaching thunder that, one day, will destroy us too, I feel the suffering of millions. And yet, when I look up at the sky, I somehow feel that everything will change for the better, that this cruelty too shall end, that peace and tranquillity will return once more."
On Tuesday, Inter Milan captain Mauro Icardi and his Sampdoria counterpart Fabio Quagliarella handed out copies of 'The Diary of Anne Frank' to mascots who accompanied players onto the pitch.
The head of Rome's Jewish community, Ruth Dureghello, posted a picture of the stickers on Twitter, and added: "This is not soccer, this is not sport. Anti-Semites out of the stadiums."
The post was retweeted by Rome's Mayor Virginia Raggi, and the Italian football association is expected to investigate the case.
Italy's football federation announced in a statement that there will be a minute's silence at games to promote Holocaust remembrance.