Swansea City: John Hartson blames summer transfers for poor form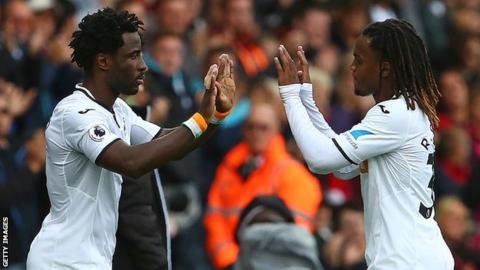 Former Wales striker John Hartson says Swansea City are in a relegation battle and will be relying on signings in January to help them avoid the drop.
Hartson says the club made a mistake in re-signing striker Wilfried Bony and believes another summer recruit Renato Sanches, is not fit enough.
He also claims the club did not need to sign Roque Mesa.
"It is going to be a long season and they are going to be down there again," Hartson told BBC Sport Wales.
"It will be a relegation battle again this season, 100%."
Summer of mistakes
Speaking after the Swans' exit from the Carabao Cup after a 2-0 defeat to Manchester United, former Arsenal and West Ham striker Hartson made clear that he thinks the Swans' predicament is of their own making after a disappointing summer.
The top goalscorers for the club last season, Fernando Llorente and Gylfi Sigurdsson, were sold to Tottenham and Everton respectively. Even boss Paul Clement has admitted Swansea's squad is "imbalanced."
Bony scored 25 Premier League goals during his first spell at the Liberty Stadium between 2013 and 2015, but has not been on target since returning.
"He is not fit enough, he hasn't kicked a ball in two years," Hartson explained.
"He's two years older, but he's brought back as your big signing of the summer. The fans get excited, but then they get let down again; because I don't think he's the player he was two years ago.
"He has got injured, but I would question that signing anyway. They are looking for him to rekindle some of the form he showed from two or three years ago, but he did very little at Manchester City and even less at Stoke.
"They need to get Nathan Dyer in the team, some pace out wide, they need to get Bony fit and they need to get Renato Sanches fit.
"I mean, what was that all about with Sanches? The relationship between Clement and Carlo Ancelotti got him here from Bayern Munich, but the boy doesn't look fit enough to play; he looks as if he needs a pre-season."
Midfield signing Mesa has also been questioned by Hartson.
"Roque Mesa? I don't know what he does," he said.
"For me Mesa doesn't do enough, he doesn't look like he's going to take control of games and dictate the pace, he's not that kind of player."
January recruitment vital to replace key pair
Hartson feels Swansea's hopes of staying up will again hinge on their recruitment in January, with Clement's signings last year credited with helping their unlikely survival.
"You are relying on a young striker in Tammy Abraham who needs experience alongside him and Llorente they let go. He would have been ideal to play alongside Abraham.
"They need at least three signings, they need experience, they need goals in the team and they need a midfielder who can create.
"Sigurdsson was a no-brainer to let go, you can't turn down £45 million, Swansea have always operated that way, building players up and selling for the maximum they can.
"But they need urgent recruitment of players that are going to save them again. They were saved last season by good performances towards the end of the season, Paul Clement did a really good job to keep them up, but you can't keep dodging bullets every year.
"I hope they get a good January. They need to bring in two or three players and hopefully can re-evaluate and stay up.
"They need at least three signings, they need experience, they need goals in the team and they need a midfielder who can create.
Swansea City 'most subdued'
Hartson believes the Swans currently look like a side who have accepted their fate of a difficult season.
"It is the quietest, flattest and most subdued I have seen it here at the Liberty Stadium," he said.
"There is just a sense of 'we are beaten already' and I haven't seen that from Swansea in recent years, they've always had that fight.
"There have always been three or four players with that little bit of desire and fire in their bellies, but I didn't see it against Manchester United.
"Paul Clement said they played better than they have been playing recently, well I don't know how bad they have been playing recently then, because that didn't inspire me as a Swansea City fan."