Ronald Koeman: Sacked Everton manager 'couldn't lift players'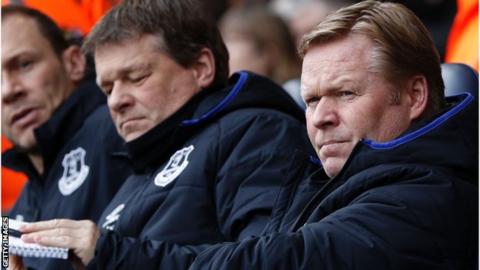 Ronald Koeman's failure to inspire his Everton players probably cost him his job, says former defender Michael Ball.
The Toffees sacked Koeman as manager on Monday after a 5-2 defeat by Arsenal on Sunday left them third from bottom in the Premier League.
Ex-England international Ball, who played under Koeman at PSV Eindhoven, told BBC Sport: "Ronald is great when things are going well.
"When results go bad he doesn't seem to know how to improve and lift players."
He added: "He's very blunt and painfully honest sometimes, but when you're getting results it's OK.
"When things aren't going well he struggles with his mannerisms. You never get a pat on the back.
"Some players rise to that treatment and others, rightly or wrongly, can't deal with it."
Fellow former Everton players Pat Nevin and Alan Stubbs also questioned Koeman's handling of the team.
Nevin, who played for the Toffees between 1988 and 1992, said there "isn't an understanding" in the team, while Stubbs, who made 192 appearances for the club across two spells, said the players "look confused".
Everton finished seventh last season, Koeman's first in charge following two years at Southampton.
Everton have won only twice in the league this term, have taken only one point from a possible nine in the Europa League and and have not won in five games in all competitions.
"Under pressure, you need to figure out a style of play and work on getting better at it, but he never had that this season," said 38-year-old Ball.
"You could never second-guess his team or how they would play. Against Arsenal he was playing a right-sided midfielder in centre midfield and the game before that he had a right-back, Cuco Martina, at left-back.
"Everton were easy to play against. Whoever comes in now, even if it's temporary, will be able to improve things just by having a consistent way of playing and using players in their right roles."
Ball, who made 139 appearances for boyhood club Everton and won one England cap under Sven-Goran Eriksson, signed for Guus Hiddink's PSV in 2005.
The club won the Dutch league during his time in the Netherlands, but he was overlooked after Koeman replaced Hiddink the following year.
"I wanted Ronald to be a success when he came to Everton," said Ball. "I had my doubts because of my experiences playing under him but I wanted to be proved wrong."
Everton spent £140m in the summer transfer window, although they sold striker Romelu Lukaku to Manchester United to £75m.
"Seventh was a good finish after that first season but this summer the transfers became a problem," said Ball.
"They did some good early work in the window but then it slowed and Lukaku went without being replaced.
"That's not just down to Koeman - the board need to hold their hands up for those failures too."
Everton managers' Premier League record (after 47 games)
Manager
Win %
Roberto Martinez
51.06%
David Moyes
44.68%
Ronald Koeman
40.43%
Howard Kendall
38.30%
Joe Royle
34.04%
Walter Smith
34.04%
Analysis -'£150m and no identity'
Former Everton winger Pat Nevin on BBC Sport
For Everton to go backwards has been a real shock.
There really isn't an understanding between the players - it looks like a group of players as opposed to a team
You just don't get away with that in the Premier League. You need to be as a unit working together and they've not looked like that.
Ex-Everton defender Alan Stubbs on Radio 5 live
It has been frustrating with the amount of money Everton has spent. There was a lot of optimism in the summer, but that seems to have fallen flat.
There has been no real continuity with the two centre-halves. For some reason Koeman has not fancied Phil Jagielka at one point; he brought Ashley Williams in and he has had a tough start to the season. Michael Keane came to the club - everyone thought it was a good signing, but it has not gone the way he would have liked.
The team give the impression that they look confused. They are not a possession team, they are not a counter-attacking team or a long-ball team. You start to think you have spent £150m and have got no identity.
It is common knowledge that (major shareholder) Farhad Moshiri was the deciding factor in Koeman getting the job.
There were other contenders that Bill Kenwright may have put forward, but this was Moshiri's appointment. Whether now, because it has not really worked, Bill has a bigger influence on who comes in next, we will have to wait and see.
It would be a huge ask for (Under-21 coach) David Unsworth, a huge step for what he has been doing.