Watford: A rising force through careful planning not instability and chaos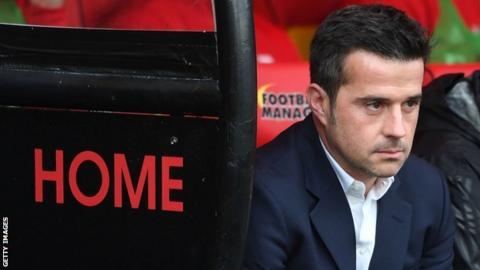 Watford's ascent to the upper reaches of the Premier League may be regarded as an overnight success under the highly-rated Portuguese coach Marco Silva, but in reality it is a progression five years in the making.
The Hornets have been portrayed as a monument to instability as a result of regular managerial changes since the Italian Pozzo family took control at Vicarage Road in June 2012.
Since Sean Dyche left shortly after the arrival of the Pozzos, eight managers have taken charge, although the figure is put into context to a degree with Beppe Sannino leaving amid tension with players, Oscar Garcia resigning because of ill-health after only 27 days, and Billy McKinlay a short-term appointment before Slavisa Jokanovic's arrival.
Watford chairman and CEO Scott Duxbury calls their upward curve in the Premier League "the inconvenient truth", because it is actually stability, rather than volatility, that is behind the club's development.
The strategy - how to survive managerial change
Watford's strategy has been to build a structure behind the scenes that they hope will help the incumbent coach to flourish but also cope with managerial change without dismantling the club's framework.
The club's de factor owner Gino Pozzo heads up a three-man hierarchy with Duxbury and technical director Filippo Giraldi - and while Silva is now a hugely-admired part of that set-up, he is part of Watford's vision rather than vice versa.
Duxbury told BBC Sport: "We are the inconvenient truth in that we are a model of stability that allows coaches to perform to their highest level. This is because of the infrastructure we have actually built up over the last five years.
"I say the inconvenient truth, because the media likes to portray us as unstable because of the number of head coaches we have had, but if you look back we have provided an environment on and off the pitch that has allowed every coach to succeed."
Duxbury notes that Gianfranco Zola, the Pozzos' first appointment, took Watford to a Championship play-off final and Jokanovic won promotion to the Premier League. Quique Sanchez Flores and Walter Mazzarri secured that status before Silva's arrival.
Watford's league record since June 2012
Manager
Joined
Left
Games
W
D
L
Win %
Gianfranco Zola
07/07/2012
16/12/2013
66
29
15
22
43.9
Beppe Sannino
18/12/2013
31/08/2014
31
13
8
10
41.9
Oscar Garcia
02/09/2014
29/09/2014
4
1
2
1
25
Billy McKinlay
29/09/2014
07/10/2014
2
1
1
0
50
Slavisa Jokanovic
07/10/2014
05/06/2015
35
21
5
9
60
Quique Sanchez Flores
05/06/2015
30/06/2016
38
12
9
17
31.6
Walter Mazzarri
01/07/2016
22/05/2017
38
11
7
20
29
Marco Silva
28/05/2017
Present
9
4
3
2
44.4
Watford's policy is to accept managerial shelf-life is increasingly short - as has been proved by Frank de Boer's departure from Crystal Palace after only four league games, Craig Shakespeare's sacking at Leicester City after eight and Ronald Koeman's Everton exit after nine - and build foundations accordingly.
Duxbury says: "On the stability point, we take a view that the role of a coach, particularly at a middle-of-the-table club, is a short one. I think the lifespan is two years. They will either move on to bigger and better things or there will be problems and then you will look to move on and look in a different direction.
"If you take that pragmatic approach, and history suggests it is the right approach, then I think it is only common sense you build a stable environment around the club so that if a coach does move for whatever reason, success or failure, the actual club and infrastructure around it remains so you can transplant in another coach to continue the development.
"We have shown over the past five years that the model works and we are actually a stable football club. It is just a sensible use of resources. It stops a club being derailed if a coach moves on for whatever reason."
How important is Watford's manager?
Marco Silva's summer appointment was regarded as a coup for Watford, the 40-year-old Portuguese actually enhancing his reputation at Hull City despite their relegation from the Premier League.
Silva's meticulous approach and tactical awareness has drawn comparisons with friend and fellow countryman Jose Mourinho, his fierce work ethic, intensity and attention to detail impressing those who brought him to Vicarage Road.
And again, fixed firmly in Watford's strategy, is the determination to leave Silva to concentrate on his coaching strengths.
"We take away all the distractions," says Duxbury.
"Marco is a mirror and model for that stability. Take nothing away from Marco, what he is doing is superb - but what he is doing is coaching.
"The coach is an extremely important role but our view is to make sure that is all he has to concentrate on. We don't expect him to grow and develop the football club - that's what we do. He can concentrate on his core competency."
Managers in Premier League since Silva's arrival (min. 5 games)
Manager
P
W
D
L
Win %
Mauricio Pochettino
27
20
4
3
74.1
Antonio Conte
27
19
3
5
70.4
Pep Guardiola
27
18
7
2
66.7
Arsene Wenger
27
16
2
9
59.3
Jose Mourinho
27
13
11
3
48.1
Jurgen Klopp
27
12
9
6
44.4
Sam Allardyce
18
8
1
9
44.4
Rafa Benitez
9
4
2
3
44.4
Ronald Koeman
27
11
6
10
40.7
Craig Shakespeare
21
8
5
8
38.1
Marco Silva
27
10
6
11
37
And, despite a 4-2 loss at Chelsea last weekend, Silva has created a huge impression around Watford in these early days of promise under their latest head coach.
Duxbury said: "We have a clear idea of how we believe coaching should occur at this club. We have a strong work ethic. We don't give days off to players, other than a recovery day, during the season.
"We like high intensity training and it is that combination, together with strong man management, that came across very clearly in Marco's time at Hull City.
"That is what we will always be looking for, for that coach who can deliver that work ethic, that kind of professionalism we have been looking for. This is what Marco gives, together with the fact his squad management and man management is superb.
"Marco is an exceptional coach working at a very high level."
So why those Watford changes?
The impression of Watford as a "hire 'em fire 'em" club when it comes to employing managers is a theory the club is keen to debunk.
After those early periods of turnover, Jokanovic lasted 35 league games - winning promotion before a contract dispute led to his departure - while Flores and Mazzarri each had one full Premier League season at Vicarage Road before moving on.
Duxbury insists these changes are not the product of a trigger-happy boardroom but clear decision making, pointing in the direction of the multitude of mid-season - or even early-season - managerial changes elsewhere.
He explained: "If you look at our Premier League history we have never changed a coach during the season. We have completed every campaign with the same coach. I think that is testament to all parties at the football club and our evaluation process.
"We don't like making knee-jerk reactions or decisions because they are invariably wrong.
"At the end of the season we sit down, evaluate where we want to go and how we are going to get there. It has resulted in a discussion that has led to a change in coach because the ideology and where we want to go hasn't necessarily been aligned with that particular individual.
"Fortunately, it has always been our conscious decision and part of our strategic development rather than 'we're bottom of the league. We've lost five games. We have to make a change'. We've never been in that position."
Watford's recruitment drive
Watford's fine start to the season has also put some shrewd summer recruitment in the spotlight, particularly the £11m purchase of Brazil under-20 international Richarlison from Fluminense and the £5.5m deal to sign Nathaniel Chalobah from Chelsea.
Richarlison had a disappointing day at Stamford Bridge on Saturday but has impressed overall, while Chalobah's early form won him an England call-up before he sustained a knee injury.
Pozzo, Duxbury and especially Giraldi lead Watford's worldwide scouting network.
Giraldi, who revealed Watford have a list of "10 players minimum per position" on their recruitment list, was elevated from chief scout and enjoys what he calls the "vertical structure" of management, the lack of layers meaning deals can be done quickly.
He once joked about Watford's web of scouts: "It's like a spy story. I don't like to say their names or where they are based but I can tell you they cover everywhere."
Watford have a head of recruitment in South America who they are in daily contact with as they unearth talent such as the precocious Richarlison.
Watford's major 2017 summer signings
Player
Position
From
Fee
Tom Cleverley
Midfield
Everton
Undisclosed
Kiko Femenia
Defence
Deportivo Alaves
Free
Will Hughes
Midfield
Derby
£8m
Nathaniel Chalobah
Midfield
Chelsea
£5m
Richarlison
Forward
Fluminese
£11m
Andre Gray
Forward
Burnley
£18.5m
Andre Carrillo
Forward
Benfica
Loan
Pozzo, Duxbury and Giraldi are involved in the constant flow of information and the majority of Watford's summer business was already close to conclusion before the window opened.
"We try to be clever," says Duxbury. "We try to get our information quickly then move quickly. I think as each year goes by our reputation and standing is growing.
"We just move very quickly and efficiently out of all the targets for that particular position. Richarlison was the one we could close quickly so we took a view we would close what was closable rather than waiting and looking at other options."
Chalobah was prepared to leave Chelsea to move to Vicarage Road, a switch that surprised some given his growing reputation as a key component of England's under-21 side.
Duxbury said: "We are a growing, aspirational club
"It takes somebody of intelligence, drive and ambition to actually buy into that, to say I will leave the safe surroundings of one of the biggest clubs in Europe to come and play and be part of this process.
"It is really satisfying that he was rewarded almost immediately for that. He's played and has been selected for the England squad."
Richarlison was on Watford's radar for 12 months before the deal was done, having also being linked with Chelsea, and Duxbury admits there was an element of a gamble about the move.
"He was always in that 'potential' category but all of us, including Marco, were prepared to take that gamble, spending that kind of money on a player we needed to perform immediately when there was no guarantee he would.
"I can't talk for other clubs, whether they were prepared to take that gamble or not, but we did and we moved quickly and decisively."
Deals are done in conjunction with the coach, but Duxbury says: "To ask a coach to be responsible for scouting, recruiting, negotiating - I think it's just unworkable.
"We work with the coach. We take that burden away from him, allow him to focus on coaching while we bring in the players.
"He will have been part of the process in identifying the players and we will always bring in players that he wants but the actual mechanics of it, the burden of it, is taken away from him."
Does the "old" Watford still exist?
Watford, under the management of the late Graham Taylor and chairmanship of Sir Elton John, was a "family" club - and there is still more than a nod to the vintage era even under the modern regime.
They both have stands named after them at Vicarage Road, while the rock star and Honorary Life President attends at least one home game a season, including the recent meeting with Manchester City.
He is also in regular touch with the club hierarchy while a statue to Taylor has been commissioned with his family's blessing and will be unveiled towards the end of the season.
The club's Community Trust also celebrates its 25th anniversary this season.
Now Watford are hoping their "inconvenient truth" can gain wider acceptance and recognition.