Arsene Wenger gives fan, 103, a birthday present to remember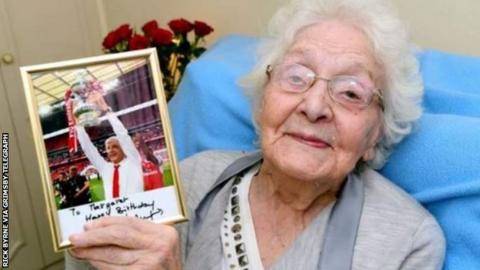 103-year-old Margaret Welby will never forget this landmark birthday.
That's because Arsene Wenger has only gone and sent her a signed photo and a birthday letter.
Margaret is just one of about 14,500 people in the United Kingdom who have lived to see the age of 100.
And in case you're wondering, she's definitely #WengerIn and not #WengerOut.
Margaret has been a devoted football fan most of her life and has even visited Wembley an impressive nine times to watch the FA Cup final.
She also likes to think of herself as the Frenchman's 'girlfriend' - and even has a photograph of Wenger on her bedroom wall alongside photos of her family members.
Many happy returns, Margaret!