Rangers: Kenny Miller's agent says players reputation has been 'trashed'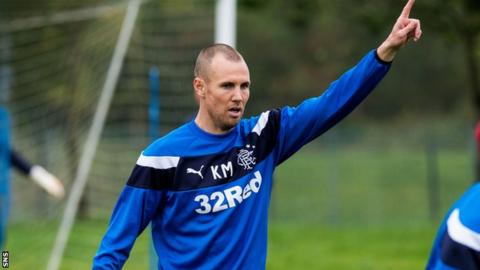 Kenny Miller's agent has continued to criticise Rangers on social media, this time claiming his client's reputation has been "trashed" by recent events.
In an Instagram post on Tuesday, David Baldwin said Rangers disrespected Miller by dropping him following claims of a "leak" in the Ibrox dressing room.
Miller has not featured in the last two matches following an alleged disagreement with boss Pedro Caixinha.
And Baldwin insists it should have been made clear that Miller was innocent.
On Wednesday, Baldwin posted another message following criticism from Rangers fans.
"Just to clarify, because some people are clearly missing the point," the agent wrote on Instagram. "I have absolutely no problem with a player being dropped for lack of form and football reasons.
"The manager picks the team and squad and always should. Absolutely no problem with that.
'That leads to his family getting dogs abuse'
"The problem I have is when the player is the only player dropped the day after a big rant about the club having a dressing room 'leak' and then it is not clarified why he is being left out.
"It leaves it open to inferral and insinuation and endless newspaper stories and social media speculation that he was possibly or clearly the leak. When clearly he wasn't.
"That then leads to his family getting dogs abuse about their loved one being a 'rat' and a 'traitor.' Which is unacceptable.
"It is not often a football club makes a claim that they have a leak in the dressing room, so my very simple point was that the club should have quickly clarified that wasn't why this particular player was being left out.
"Simple and would have saved a top professional's reputation from getting trashed. Hopefully that clears it up."
Caixinha said on Tuesday that Miller was not involved against St Johnstone on Friday night due to a slight hamstring knock he picked up in training.
Rangers face Motherwell on Sunday in the Scottish League Cup semi-final at Hampden.