Newcastle United: Shay Given felt forced out by Mike Ashley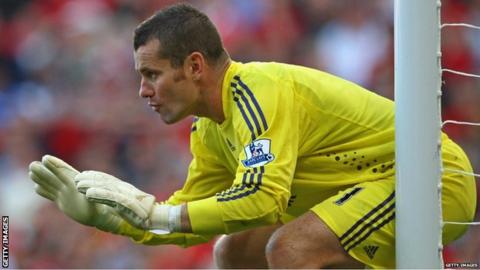 Former Newcastle United goalkeeper Shay Given believes Mike Ashley's cost-cutting forced him out of the club where he wanted to finish his career.
The ex-Republic of Ireland international spent 12 years at St James' Park but left to join Manchester City in 2009.
Given, 41, claims a lack of boardroom ambition under Ashley led to his exit.
He added: "Thankfully the club will be around a lot longer than Mike Ashley."
On Monday Ashley, who has been a divisive figure since taking over in 2007, announced he had put the Premier League club up sale.
The Magpies have twice been relegated from the Premier League during his ownership, and fan protests have continued against the businessman for much of the past decade.
In his new book 'Any Given Saturday' Given reveals his belief that the SportsDirect boss tried to run the club "on the cheap".
He said a low contract offer in 2009 left him disillusioned, and criticised what he felt were money-saving attempts to make him sign a transfer request once he turned it down.
'How much did they really want to challenge?'
The keeper told the Chronicle how he and his lawyer Michael Kennedy met with Ashley and assistant Derek Llambias for contract talks in 2009.
"I went out of the room soon after the meeting had begun and returned to the car," he said. "Michael was back out, sat in the passenger seat, soon after. 'We're not staying,' he said. 'That was not a serious offer in any way, shape or form.'"
"I was prepared to stay for the rest of my career but, ultimately, I was in my prime, a potential Premier League winning team wanted to sign me and Newcastle did not give any impression they wanted to chase silverware.
"How much did they really want to keep me though? How much did they want to be challenging? Did the boardroom care about keeping their most loyal players? In a word, no."
'A gun was put to my head'
Given felt Newcastle tried to make it seem as if he had been pushing for a move away from Tyneside.
In reality, he said, they offered him a contract worth less than he was already on.
"In the end, with me unhappy at what was going on and the lack of ambition shown by the club, a gun was put to my head," he said.
"They said they would not allow me to leave unless I signed a transfer request. By making me hand in a formal written request, it meant they could waive 10% of the fee I otherwise would've picked up after moving.
"With the fee being around £6-8m, it effectively meant I was waiving £600,000 to go.
"They made it sound like I was holding them to ransom and that poor little Newcastle were being stitched up by just another greedy footballer when, in actual fact, I wanted to stay - but only if Newcastle gave me a competitive contract and, by doing so, proved the club had big plans for the future."
Ashley's turbulent reign at Newcastle
May 2007: Takes over at St James' Park.
January 2008: Manager Sam Allardyce sacked and replaced by Kevin Keegan. Dennis Wise named director of football.
September 2008: Keegan resigns and Joe Kinnear is installed as interim manager, sparking fan protests. Ashley puts club up for sale.
December 2008: Takes club off the market.
May 2009: Newcastle relegated to Championship.
November 2009: Ashley renames St James' Park the sportsdirect.com @ St James' Park Stadium.
April 2010: Under new manager Chris Hughton, Newcastle win Championship and return to Premier League.
December 2010: Hughton sacked with club in 11th. Alan Pardew appointed.
November 2011: St James' Park renamed Sports Direct Arena after Ashley's company.
May 2012: Newcastle finish fifth in the Premier League under Pardew.
October 2013: Club bans journalists from the Newcastle Evening Chronicle, the Journal and the Sunday Sun.
May 2015: Ashley says he will not leave club until they have won a trophy.
May 2016: Newcastle relegated from the Premier League for the second time during his reign.
April 2017: Magpies secure promotion back to the Premier League.