Newcastle United: Mike Ashley puts Premier League club up for sale
Last updated on .From the section Football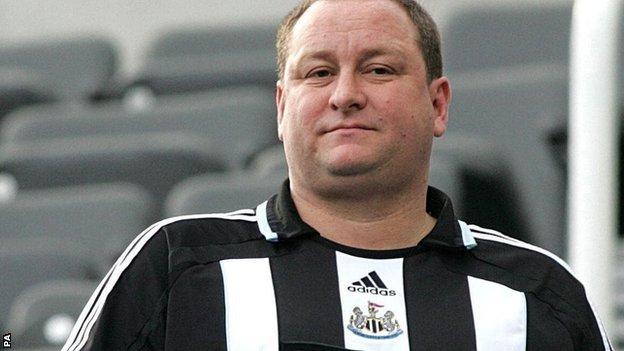 Newcastle United have been put up for sale with owner Mike Ashley hoping to conclude a deal by Christmas.
The Magpies have been relegated twice from the Premier League during Ashley's 10-year reign.
After winning promotion last season, Rafael Benitez's side are ninth in the top flight after eight matches.
"Newcastle United requires a clear direction and a path to a bright and successful future," a club statement said.
Ashley, 53, has been a divisive figure at St James' Park since taking over in 2007, with some supporters regularly protesting about the way the businessman has run the club.
Financier Amanda Staveley, 44, is a potential suitor, according to BBC Radio 5 live senior football reporter Ian Dennis, after being seen watching Newcastle's 1-1 home draw against Liverpool earlier this month.
"It was clearly a signal of intent from her and her company," Dennis added. "However, it is now a case of making sure the price is right for all parties."
Newcastle's statement added: "To give the club the best possible opportunity of securing the positioning and investment necessary to take it to the next level, at what is an important time in its history, its present ownership has determined that it is in the best interests of Newcastle United and its fans for the club to be put up for sale."
Ashley also put the club up for sale in September 2008 following a series of protests by supporters angered by Kevin Keegan's departure as manager.
He took the club off the market in December that year, but announced he wanted to sell again after relegation in May 2009 before again ending his attempt to sell the club five months later.
He said in 2016 that he "regretted" buying the club.
Ashley bought Newcastle for £134.4m in 2007. Their latest accounts - up to 30 June 2016 and before the club's relegation to the Championship - showed a profit of £900,000 and turnover of £126m in 2015-16.
"To give an incoming owner the maximum possible flexibility to make meaningful investment in the club, including in its playing squad, the sale process will give interested parties the opportunity of deferring substantial payments," added the statement.
"A process will now commence of identifying new ownership for the club that will be capable of delivering the sustained investment in and dedication to the club that is necessary for it to achieve its ambitions."
Andrew Henderson, a partner at Ashley's legal representatives Dentons, said the current owner could help with "additional funds in the short term" to complete a sale.
"Assuming an appropriate person can be found to take the club forward, on exactly how payments are structured - how much would be payable on day one, how much would be payable down the line - there is a real, genuine desire from our point of view to put the club in the best position going forward," he added.
Ashley's turbulent reign at Newcastle
May 2007: Takes over at St James' Park
January 2008: Manager Sam Allardyce sacked and replaced by Kevin Keegan. Dennis Wise named director of football
September 2008: Keegan resigns and Joe Kinnear installed as interim manager, sparking fans protests. Ashley puts club up for sale
December 2008: Takes club off the market
May 2009: Newcastle relegated to Championship
November 2009: Ashley renames St James' Park the sportsdirect.com @ St James' Park Stadium
April 2010: Under new manager Chris Hughton, Newcastle win Championship and return to Premier League
December 2010: Hughton sacked with club in 11th place in league table. Alan Pardew appointed successor
November 2011: St James' Park renamed Sports Direct Arena after Ashley's own company
May 2012: Newcastle finish fifth in the Premier League under Pardew
October 2013: Club bans journalists from the Newcastle Evening Chronicle, The Journal and The Sunday Sun
May 2015: Ashley says he will not leave club until it has won a trophy
May 2016: Newcastle relegated from the Premier League for the second time during his reign
April 2017: Newcastle seal promotion back to the Premier League
Analysis
BBC Sport chief football writer Phil McNulty:
The news that Newcastle United is now formally up for sale will gladden the hearts of every member of the Toon Army.
Owner Mike Ashley has been locked in a loveless marriage with Newcastle United's vast support almost from the day he took control at St James' Park in 2007.
Newcastle manager Rafael Benitez is a hugely popular figure among the fanbase after restoring them to the Premier League this season, where they have made a solid start.
The Spaniard, however, has endured an uneasy relationship with Ashley in recent months as Newcastle United only carried out limited transfer business after winning promotion.
And fans fear Benitez, who they regard as their best managerial hope of success for years, might be lured away from Tyneside if his ambitions are not fulfilled under Ashley's regime.
If Newcastle can attract ambitious owners and big investment, Benitez - who has had run-ins with hierarchy in the past it should be stressed - might be able to tap in even more successfully to the huge potential this club possesses.
And Newcastle's fans will hope that comes sooner rather than later to allow the club to move on from Ashley's often controversial time in charge.