SWPL: Glasgow City clinical in 4-0 win over Celtic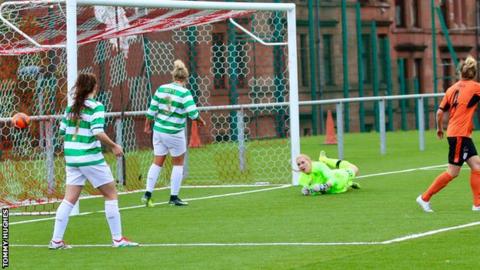 Glasgow City picked themselves up from their Champions League heartbreak to beat Celtic 4-0 and retain top spot in the Scottish Women's Premier League.
Leanne Ross, who missed a spot kick on Thursday as City went out on away goals to BIIK Kazygurt, scored a penalty to get the hosts under way.
Noelle Murray, Abbi Grant and Leanne Crichton also scored.
Elsewhere, Hibs beat Aberdeen 7-2, Rangers defeated Spartans 3-2, and Hamilton lost 1-0 to Stirling.
In SWPL 2, Forfar Farmington clinched promotion with a 5-1 win over nearest challengers Motherwell.
Thursday night had dealt a cruel blow to Scott Booth's side; defeating the Kazakhstan champions 4-1 but failing to find a fifth goal that would have sealed a place in the Champions League last 16.
No-one had been hurting more than Ross, the Glasgow City captain devastated after seeing her penalty hit the post eight minutes from time.
Just four minutes in against Celtic and Grant was bundled over in the same Petershill Park box where Ross had missed three days earlier. There was never any doubt the City captain would take the penalty.
She smashed it home and ran back to her own half without celebrating.
City had the wind behind them and they kept up the pressure. Lauren McMurchie had a goal disallowed for offside, but Murray soon made it two when she finished off a good move with a low shot into the corner.
There was always hope for Celtic that the midweek exploits would take their toll on the home side. But six minutes into the second half they found themselves 3-0 down.
Murray could have scored herself but unselfishly laid the ball to Grant who had an easy tap-in.
Hayley Lauder volleyed just wide before Crichton made it four when she thumped home after good work from Joanne Paton.
The score-line suggested a hammering, yet Celtic had not at any point been under significant pressure. But City are clinical, and they do not give much away at the back.
City have played nine domestic games since the summer break for Euro 2016. They have scored 40 goals, but just as impressive is that they have not conceded to Scottish opposition. In fact, they have not conceded domestically since Hamilton scored in a 3-1 defeat on 17 May.
But Sarah Ewens should have ended that run when substitute goalkeeper Erin Clachers was loose with a pass.
Kerry Montgomery pounced, laid the ball to Ewens, but Clachers redeemed herself with a brave block at her feet.
Glasgow City head coach Scott Booth: "I thought the girls were really professional. They had a good mentality after Thursday night to ensure that we didn't slip up. In general some of the play was fantastic, we scored some good goals and got a clean sheet.
"The best way to get over Thursday is in the very next game get the same penalty in the same goal, and this time she (Ross) took it really well. So that was a good thing.
"I think that (clean sheet record) is credit to the players at the back and goalkeeper Lee Alexander, but also to others and the way we work hard and make it difficult for other teams to score. It's a good stat and I hope it continues."
Celtic head coach David Haley: "I said to to them at half-time I didn't think we had done an awful lot wrong. We were hoping to get a good start to the second half but it's a sloppy goal, they've practically walked it into the net.
"I thought we'd done okay, but they had a few chances and they've taken them.
"Young Rachel Connor had a great game at left-back. Jamie-Leigh Napier was good as well. We're really looking forward to her developing and getting better, and obviously these games help playing against international players."