Choirul Huda: Indonesian goalkeeper dies after collision with team-mate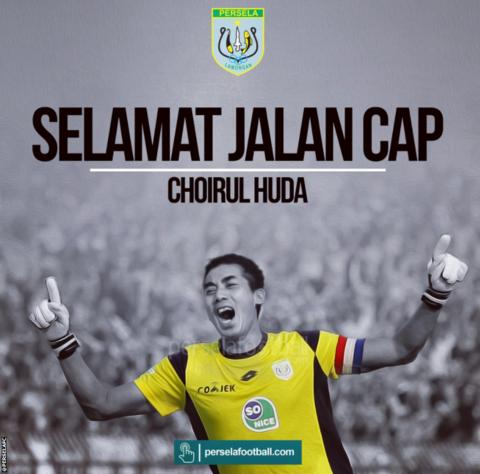 A goalkeeper in Indonesia's top division has died after colliding with a team-mate during a league match.
Choirul Huda, 38, was rushed to hospital on Sunday but pronounced dead shortly after arriving, doctors said.
In a statement released on the website of his club - Persela FC - Dr Yudistiro Andri Nugroho said Huda suffered "impacts on the chest and lower jaw".
He added the "initial analysis" suggested a "possibility of head trauma and neck trauma".
Dr Nugroho, from Dr Soegiri Lamongan hospital in Lamongan, East Java, said the collision resulted in Huda "stopping breathing and [caused a] cardiac arrest".
He said a medical team attempted to revive him but after an hour there were "no reflexes of signs of normal life".
The match continued, with Persela beating Semen Padang 2-0.
Persela said thousands of fans later attended a candlelit vigil to honour the goalkeeper, who made more than 500 league appearances for his only club.
"Thank you for your constant dedication," read a post on the club's Instagram account.
"Thank you for the inspiration you gave to Persela, Lamongan and Indonesian football."
Analysis - 'He loved what he was doing and he was a legend'
Indonesian football writer Antony Sutton met Huda a few months ago while researching a book.
"He played for his local team, he was living the dream," said Sutton. "He was just happy in his skin and happy in his town.
"He's a legend - a one-club man, His ambition was to become his club's goalkeeping coach after he retired.
"He never created a fuss about anything. He loved what he was doing but did it in such an understated way."