Tottenham: Mauricio Pochettino uses "incredible" detail - Jose Fonte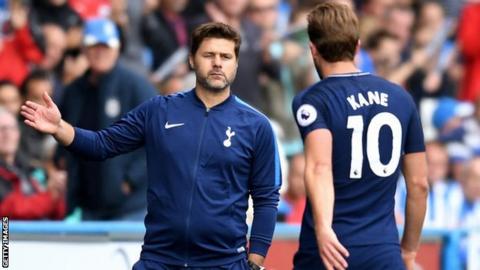 Putting a bib on in a bit of a sulk? Looking miserable while eating your pasta in the canteen? If you're playing for Mauricio Pochettino, he'll notice.
West Ham defender Jose Fonte, who played under Pochettino at Southampton, has given an insight into the Tottenham manager's "incredible" attention to detail.
Fonte revealed behind-the-scenes analysis of his players' body language is one of the secrets Pochettino uses to unlock their potential.
"Everywhere in the training ground there are cameras," the 33-year-old told MOTD2 Extra.
"If he was giving the bibs and you were not in the team, and your body language was bad, he would call you in the office and say 'Listen, this is not the right way'."
The Argentine is one of the most highly-rated managers in the game having built on his impressive 16 months at Southampton by guiding Tottenham to higher finishes in each of his three seasons in charge.
After a fifth place in 2014-15 they finished third the following season having challenged Leicester for the title, and were runners-up to relentless Chelsea in 2016-17.
Spurs sit third in the Premier League and have won both of their Champions League group games against Apoel Nicosia and Borussia Dortmund.
Fonte believes this progress is stimulated by Pochettino's constant scrutiny and planning.
"In the canteen? Everywhere. He is watching you everywhere, your body language, everything," said the Portugal centre-back.
"He is meticulous, his attention to detail is second to none. He would watch everything you do."
Yet Fonte also revealed Pochettino - who has developed the games of England superstars Harry Kane and Dele Alli at Spurs - also shows warmth that endears him to his players.
"He would put an arm around you and make you feel special. It's good," Fonte added.
"I remember Luke Shaw was like a son to him. Adam Lallana, Dejan Lovren and myself all had a great relationship with him. He was tough as well when he had to be."
'West Ham must aim for top 10'
Fonte also believes West Ham's season is now on an upward trajectory after taking four points from their last two matches.
The Hammers beat Swansea 1-0 at the London Stadium on 30 September and battled to a 1-1 draw at Burnley on Saturday despite playing with 10 men for most of the game at Turf Moor.
"I feel we have turned the corner now and are getting better and better," he added.
"You look at our squad individually and you have got to aim high - because we have people that have won trophies, people with experience and young players with a lot of quality.
"We have to aim high - at least top 10 - because we have quality and the players to do that."