Jose Mourinho: Man Utd manager says he will not finish his career at the club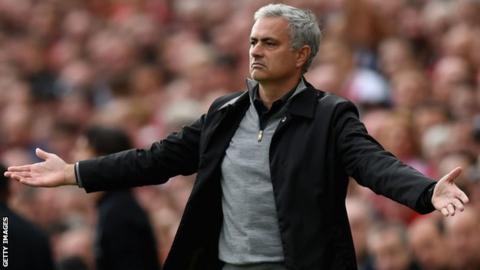 Manchester United manager Jose Mourinho says he does not believe he will finish his career at the Premier League club.
The 54-year-old Portuguese, who is in his second season with the Red Devils, has never spent more than four years in one spell at any of his seven clubs.
Speaking on French television, Mourinho also said he thought Paris St-Germain were a "fantastic" club.
"I'm still a coach with worries, with ambitions, and with the desire to do new things," said Mourinho.
The former Chelsea, Real Madrid, Inter Milan and Porto boss told TF1's Telefoot: "I don't believe, no, I'm sure that I won't end my career here."
Asked if that meant at Manchester United, Mourinho said: "Yes."
Mourinho, who won the EFL Cup and Europa League in his first season at Old Trafford, said his son had recently been to watch PSG.
"Why Paris? Because there's something special. Magic, quality, youth, it's fantastic," he added.
Analysis
BBC Sport's Simon Stone
Mourinho signed a three-year contract when he became Manchester United manager, with the option of a further season on top, so in theory there is nothing to worry about until 2020.
However, in reality, negotiations over an extension are expected to begin before the end of the current campaign. United certainly view that as a probability.
There are some frustrations. Mourinho is known to be unhappy at not getting at least one more signing, Inter Milan's Ivan Perisic, during the summer and - on a much smaller level - did not speak to in-house TV station MUTV after Saturday's draw at Liverpool, due to the huge number of media obligations he did have to fulfil.
But nothing has happened recently to suggest the Portuguese has changed his mind from past statements about wanting to be at Old Trafford for a long time.