Tottenham: Mauricio Pochettino calls Pep Guardiola's comments 'disrespectful'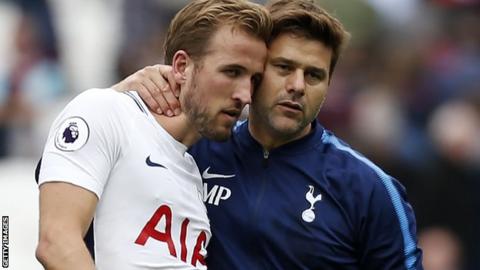 Tottenham manager Mauricio Pochettino says Pep Guardiola's comments about his side's reliance on Harry Kane were "very disrespectful" and "sad".
The Manchester City manager described Spurs as the "Harry Kane team" when discussing his side's title rivals.
The striker has scored 11 goals in seven games for Spurs this season.
"[Guardiola] was part of the big success at Barcelona and I never said it was 'the Lionel Messi team'," former Espanyol boss Pochettino said.
However, Guardiola claimed the Argentine had taken his words the wrong way and that he never intended to be disrespectful to Spurs.
The City boss, 46, described Chelsea and Manchester United as his side's rivals to win the Premier League after defeating the reigning champions at Stamford Bridge, and added: "We saw again the Harry Kane team scores every day two or three goals."
Pochettino, 45, said Guardiola was "excited" after his side's victory over Chelsea, and joked that he struggled to "keep his position and be a gentleman".
"It doesn't affect me but in the reality it was very disrespectful for many people," the Spurs boss continued.
"Everyone deserves to be recognised. When many people took the words, it was very sad and for many players that are here it is strange but, in my case, I didn't take it in a bad way.
"It wasn't disrespectful to myself. For a lot of people it was unnecessary. But we need to move on."
Speaking later on Friday, Guardiola responded by saying he thought Pochettino - who managed Espanyol between 2009 and 2012 while the former Barcelona boss was in charge of their city rivals - had "made a mistake".
"Never in my career have I not been respectful," said Guardiola.
"When I talked about Harry Kane's team, it was because Harry Kane was scoring a lot of goals and I know perfectly that Tottenham are not Harry Kane alone.
"So I think last season, the person who spoke most about appreciating the way Tottenham play was me.
"Tottenham are one of the best teams playing. So I'm really disappointed if he said that."
Tottenham host second-bottom Bournemouth at Wembley on Saturday, while leaders City meet Stoke at Etihad Stadium.