Tony Xia: Aston Villa chairman fined £4,000 by Football Association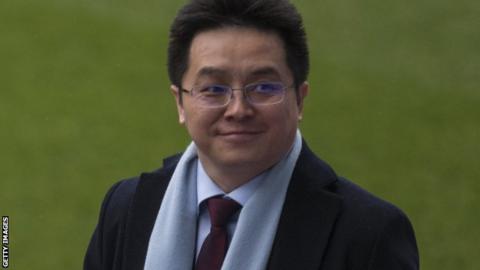 Aston Villa chairman and owner Tony Xia has been fined £4,000 by the Football Association after sending a tweet that suggested a referee was against the club.
After defender Neil Taylor was sent off late in the 1-0 win over Bolton last month, Xia tweeted of referee Jeremy Simpson: "Is the ref a AV hater?"
Xia, 40, admitted the misconduct charge and has also been warned as to his future conduct.
Villa are seventh in the Championship.
The FA said Xia's comments "questioned the integrity of the match official and/or alleged and/or implied bias on the part of the match official, and/or brought the game into disrepute, contrary to FA Rule E3(1)."