Chris Coleman: FAW must pay Wales manager his worth to stay - Terry Yorath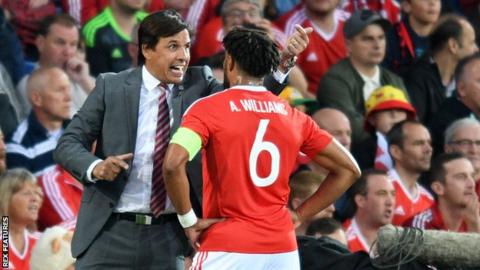 Former Wales manager Terry Yorath has urged the Football Association of Wales to do all it can to keep current boss Chris Coleman in the role.
Yorath failed to agree new terms after missing out on the 1994 World Cup.
But after Coleman's side missed out on qualifying for Russia 2018, Yorath says that must not happen this time.
"If they want to keep him [Coleman] then they've [the FAW] got to pay him, that's the name of the game unfortunately," Yorath said.
"As long as his demands are not too great then he'll stay."
Wales were beaten 1-0 by the Republic of Ireland in Cardiff in their final group game, losing out on a play-off spot.
But despite the heartbreak of that result, both the players and the governing body have publicly stated they want Coleman to continue as manager.
Coleman, 47, said after the game that he was "not thinking about" his future, having previously said this would be his last campaign.
The failure of World Cup qualification has done little to dent the regard that Coleman is held in after leading Wales to the Euro 2016 semi-finals, and he would be in demand at club level if the former Fulham, Real Sociedad, Coventry and Larissa boss took that option.
"I was at the game Monday night and the Welsh crowd love him, the players love him and you can't have more than that in a job," Yorath said.
"He'll be happy in that job, he'll love the job - it's the best job I ever had - that's why he has to say... that he's willing to negotiate," said Yorath.
"I think his statement about going at the end of this tournament was a bit hasty and now over the next few days he will make his mind up over what he wants to do.
"The ball is in Chris' court and the FAW want him to stay.
"He has to go back to them and say 'let's talk'."
Coleman in demand
Cardiff City manager Neil Warnock believes Coleman would be courted by ambitious Championship clubs upwards, but hopes he stays as Wales manager.
"It'll not be an easy decision. Financially I think he'll get offered a lot more money than he'll earn with the Welsh, because jobs round the country now are very well paid," Warnock said.
"He's got so many decisions to make but I wouldn't rush it if I was him. I hope he doesn't rush it and make the wrong decision.
"I don't think the Welsh will push him, I think they're very pleased. I was at the game [against the Republic] the other night and everything I heard was very positive.
"It was so close and the challenge starts again and if he thinks he's got that team then I hope he stays. It's great for the area."