Scotland: Strachan's mistake was not starting campaign with Griffiths up front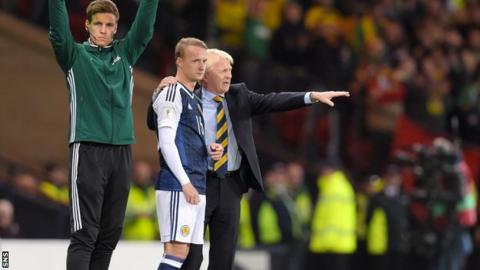 Former Scotland striker Billy Dodds believes the national team would have reached the World Cup play-offs if Gordon Strachan had played Leigh Griffiths from the start of qualifying.
Griffiths did not start the opening three games, with Scotland dropping five points to Slovakia and Lithuania.
Dodds says Strachan will be "kicking himself" for leaving the striker out.
"If Leigh Griffiths had started the campaign we probably would have qualified," Dodds told BBC Scotland.
"There were things not right at the start of the campaign, and that's what cost us."
Dodds, who scored seven times in 26 Scotland appearances, says Strachan "made mistakes" during the campaign, but insists that very careful consideration should be given to replacing him.
Griffiths was not involved in the opening Group F match against Malta and was a second-half substitute against Lithuania and Slovakia.
Once established in the starting line-up, he delivered four goals and three assists in seven matches. Scotland won four of them and drew two, including the final group game against Slovenia when a win would have secured second place in the Group F.
"It is cruel, but we are close," Dodds said on BBC Radio Scotland's Sportsound.
"Are the performance levels good? Yes, they were at the end of the campaign, but the start was so poor that we left ourselves a lot to do. Were we close to qualifying? Yes, but we fall short on every occasion.
"I'm not saying Gordon Strachan should stay or go, but we need to judge where we're at. The form we're in is good.
"If we bin another manager and go back the way - now we could get it right and end up qualifying - but if we go back the way we're in real trouble. The players believe in the manager, we went close, a couple of games let us down.
"I don't think we're as bad as it's been. The game there against Lithuania, for the first time we had blistering pace in the front three. We're still searching for two top-quality, commanding centre-backs.
"We are not too far away. We can't clamber onto 'let's get rid of another manager'. We've got a group of players who are close to qualifying.
"Gordon Strachan made mistakes and he'll be the first to put his hand up and say he made mistakes, Leigh Griffiths being one of them. But at the end of it all, we are progressing as a nation and it's probably the best group of players we've seen for a long time."