Alexi Lalas: US soccer is shaken to its foundations by World Cup exit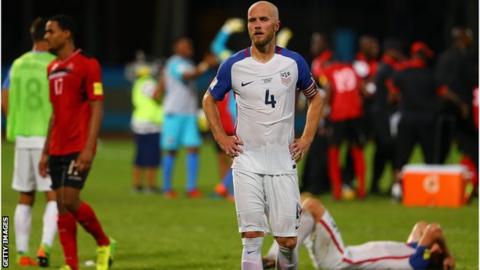 The United States' failure to make Russia 2018 marks a "sad and dark moment" for football in the country says former defender Alexi Lalas.
Tuesday's 2-1 defeat by Trinidad and Tobago means the US will miss the finals for the first time since 1986.
"It is not a good look or feeling. It will have repercussions," Lalas, 47, told BBC World Service.
"They let themselves down, they let us down and they will have to think about that for a very long time."
The United States needed only a point in their final World Cup qualifying match to book their place at an eighth successive World Cup.
But opponents Trinidad and Tobago - who had won only one of their previous nine games - beat them, with Panama and Honduras also winning to end the hopes of Bruce Arena's side.
Head coach Arena took responsibility for the defeat but said that "there's nothing wrong with what we're doing".
"To make any kind of crazy changes I think would be foolish. We're building a good system in our professional league. We have players playing abroad of some quality," he added.
However Donna E. Shalala - one of 17 directors of governing body US Soccer - has called the failure "unacceptable" and said it is "time for a revolution".
Lalas, who scored nine goals in 96 games for his country including one in June 1993's shock 2-0 friendly win over England, says that the United States can emerge stronger for the defeat.
"Whether it is over-confidence or hubris, this is a team that did not play as a team enough, at times they showed sparks, but the faltered too often and did not gain any sustained momentum," he added.
"The United States soccer community will be shaken to its foundations - this will have repercussions on the field and off the field.
"But we will take our lumps, learn, dust ourselves off and come back strong having learned painful, but hopefully valuable, lessons in who we are and who we aren't."