Rangers striker Kenny Miller back in the fold at Ibrox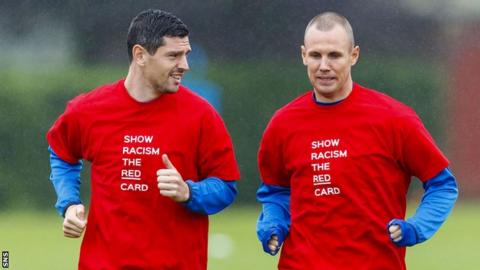 Manager Pedro Caixinha insists striker Kenny Miller responded "with full respect" after being left out of the Rangers squad for the game at Hamilton before the international break.
"He's a senior player, he understands things," said the Portuguese at Wednesday's media conference.
"We spoke. Sometimes it's important for you to justify the decisions.
"Other times I don't have to justify anything. But we clarified everything and he's one of ours."
Miller, 37, signed a one-year contract extension at Ibrox towards the end of last season.
He was dropped for the game against the Accies on 29 September after a fall-out with Caixinha following the 2-0 defeat by Celtic.
He will have to wait to see if he is in the squad for Friday's Premiership match against St Johnstone in Perth, although he has a minor fitness concern too.
Caixinha said: "Kenny is one of our players from the squad like all the others. All of them have the same respect and behaviour from our side.
"But I'm the manager. I decide the players who will start the game, I decide the players that are going to be in the squad, and I also decide the players who will be out of the squad.
"Kenny is definitely one of ours and, like all the others, it depends on my decision.
"We still have training tomorrow. To be honest, he felt something today in training. I don't think it's going to be anything major.
"Tomorrow we will have the squad and we will see if he's on the list or not. We have more options now and Kenny is one of ours. It's my decision if he will be on the list or not."
Meanwhile, experienced Portugal centre-half Bruno Alves returns from international duty on Wednesday and will train with his Rangers team-mates on Thursday.