SFA, not Strachan, must decide manager's future - Smith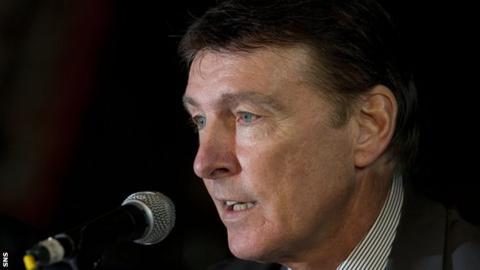 Former Scottish FA chief executive Gordon Smith believes the organisation should have the ultimate say on whether Gordon Strachan stays as Scotland boss.
Strachan's future will be discussed at Thursday's SFA board meeting and his contract is due to end next month.
Scotland missed out on the World Cup play-offs following Sunday's 2-2 draw with Slovenia.
"They should be making the decision now, not leaving it up to him," said Smith.
"The board are very much behind him, they have been during his reign in the position.
"I think if he says he wants to stay on, he's got things going, I wouldn't be surprised if they back him.
"I think it is time for him to move on. I would find out what he wants to do first and foremost but I would be more or less in favour of time for change."
The draw in Slovenia was Scotland's sixth successive unbeaten match, a run that generated 14 points from a possible 18.
However, they had taken just four points from the opening four games in Group F.
Strachan's post-match comments in Ljubljana about the Scots being "genetically behind" have drawn much attention and Smith, who oversaw two Scotland managerial appointments, suggested the public reaction to those remarks may have impacted the SFA board's mood.
"With everything that's happened in the last couple of days regarding some of his comments, I think it might be a case that [the board] make the decision on Thursday," Smith told BBC Radio Scotland's Sportsound.
"I think his comments have gone totally against him. Is he not saying we can't compete? So why would you leave someone in charge who doesn't think we can compete at a high level because of genetics?"
However, one of Strachan's predecessors, Alex McLeish, feels the comments have been misunderstood, although he admits his former Aberdeen team-mate has "opened up a can of worms".
"It's easy to simplify it and say that he's talking about small players but that's not the case," said McLeish, who managed Scotland for 10 games in 2007.
"I think he's talking about athleticism, he's talking about strength, he's talking about a lot of aspects that go into making a top professional footballer.
"It's worth debate. We have to have a place for creative thinking and creative in terms trying to sort out the future of the Scottish national team game."
McLeish was asked on BBC Radio 5 live Sport if there was anything to be gained from a change in management with Scotland.
"I don't think so," he replied.
"Gordon finished the group very strongly. The damage was done in earlier games."