Kris Commons takes comfort from raising awareness about stillbirth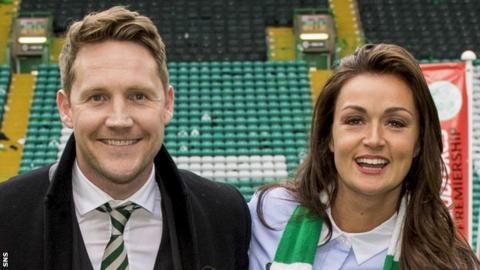 Seven years on from the loss of their stillborn daughter Lola, former Celtic and Scotland midfielder Kris Commons and his partner, Lisa Hague, take comfort from helping other families cope with the experience.
Commons was at Nottingham Forest at the time, but the couple have continued to campaign on stillborn awareness while setting up home in Glasgow.
"No-one likes talking about death or bad times," Commons told BBC Scotland.
"But if you are in that circle, it's all you do want to talk about and it gives you such massive relief," Commons told BBC Scotland.
"Mothers and fathers think, what did we do wrong? Why did it happen to us? But 99.9% of the time it's just a medical thing that happens, you have no control over it.
"So talking to other people and trying to reassure people that better thing are to come, is a good way of dealing with it."
The couple have had three children since moving to Glasgow and are open with them as well as the public about their experience.
Hague went to hospital for a routine scan late in her first pregnancy only to discover that due to a virus she was unaware of, her placenta had stopped working and the baby no longer had a heartbeat.
"It's devastating, beyond words," she says. "I rang Kris, and just said, 'she's gone', and he knew straight away what I meant.
"With our experience, we made a decision not to see or hold Lola - a decision I deeply, deeply regret. I was scared at the time, we didn't know at the time what a baby who passed away would look like, and also Kris played for Nottingham Forest, we were in Nottingham Hospital, you feel that you're under observation, although the care was excellent.
"We tell people that I made a big mistake in not holding her. But it's not for everyone.
"It's such a taboo subject. Sometimes on Twitter I'll just randomly write, 'I was pregnant, I lost a nine-month-old baby girl, her name was Lola, she was 4lb 3, she was cremated, break the silence'.
"The feedback I got was people just loving to hear that open honesty. I'm not made of glass, I'm all right. I always say that my heart got broken when Lola died.
"Time has helped, but my heart will always have a chip missing from it, but I don't want it to be complete anyway because that is Lola's part. I do feel that it's therapy in itself helping people."
Commons, who left Celtic last summer after six years at the club, recalls meeting through the couple's charity work a woman from Glasgow who suffered a stillbirth 50 years ago.
"The doctor came in, tapped her on the leg and said, 'you're still young, you've still got plenty in you, off you pop'," he says.
"She says now she's still doing the remembrance things for something that happened 50 years ago. That shows you the effect on the mother, the grandparents. It gives them something to think that light was there, it did happen, and not to be forgotten about."
'We've made as much of a positive as we could have done'
Hague recently asked on social media how many people had heard of and understood the word stillborn. She is committed to raising awareness, both for her own coping strategy and for others.
"We've become that couple in Glasgow that we can be on a night out having a meal or shopping and people want to come up and tell us - it's lovely - and they show us pictures of the babies who have passed away," she said.
"People have come up to me and said, 'there's maybe only six or seven people who have seen this picture, but I want you to see my baby'.
"It doesn't feel that people are putting on us, it makes us feel quite special that people will come up and tell us their stories, or give me a squeeze and thank me. We've made as much of a positive as we could have done."